Mario & Sonic at the London 2012 Olympic Games 3DS Review
Publisher – SEGA – Developer – SEGA Sports Japan – Genre – Sports/Mini Game Compilation – Players – 1-4 – Age Rating – 3+ – Other console/handheld formats – Wii
Sonic and Mario in a game together is something that would have been completely impossible at one time, although they have now appeared in a total of four games together. Now, if only SEGA and Nintendo could come up with a way to incorporate both characters into a platformer, such a game would certainly grab the interest of many a player.
That's not to say that this latest and fourth game to feature the characters is a bad one, because it's most certainly not. Mario & Sonic at the London 2012 Olympic Games is the first time that the series has appeared on the 3DS  and the third game in the overall Mario & Sonic sports series, in which mini games and a coming together of two famous universes is the order of the day.
The single player mode has you playing either one event (Highlight Match) or multiple events (Medley Match). You can also put together your very own Medley Matches, picking and choosing the events that you'd like to include. Created Medley Matches can also be shared with others.
They have also somehow got a story mode in there, in which the evil Dr Eggman and Bowser hatch a plan to attempt to stop this year's Summer Olympics from happening, using fog machines to cover the host city of London in fog. It's a passable enough yarn, but come on surely they could get some jokes in there about how Mario and Sonic used to be at each other's throats? Well at least in the daydreams of many a schoolboy in earlier days.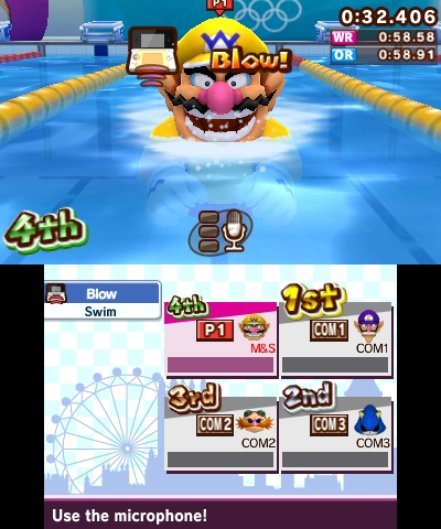 The game itself contains over 50 mini games, and the grand thing is that they have really went all out to make use of the 3DS' entire toolset, or most of it in any case: you'll be making use of the touch screen, the motion controls and the microphone across these mini games.
There's too many to mention the lot, although expect swimming, running, cycling, basketball, tennis, judo and more. The best thing is that the majority of these mini games are a lot of fun, with the pick-up-and-play simplicity that you would expect to find in a mini game collection. Your reactions, accuracy and speed will most certainly be tested.
Some may be irked at the brevity of some of these games, although you are playing the wrong game if you are expecting an entire marathon to be included in a mini game collection. The same can be said for the simplicity – if you are looking for depth, this is not the Olympics game for you.
Negatively, all the included games aren't a success – some confuse with what exactly you are supposed to be doing and others are a tad dull at times. But largely, this is a mini game collection that does the job, offering plenty of quick bursts of entertainment.
There's multiplayer for up to four players via local or download play, although sadly any online features have been left out. Local play and Download Play are all well and good if you know others with a 3DS, but those who don't will just have to settle for going up against the AI or to aim to make a mark in the online rankings.
Mario & Sonic at the London 2012 Olympic Games is lovely to look at. The bright colours and chunky character models look great in 3D, although aurally you may get tired of hearing the same soundbytes from the characters again and again.
If only they had been able to let the quality shine through the entire game and included online play as well, we would have been looking at an even better game, but Mario & Sonic at the London 2012 Olympic Games is still another impressive sporting outing for the titular duo. There's plenty of enjoyment to be had with over 50 mini games, a story mode and going up against others in the rankings. For a third time, then, Mario and Sonic are certainly perfect sporting companions.
8/10