FIFA 15 PS4 Review
Publisher: EA Sports  Developer: EA Canada  Genre: Sports  Players: 1-11
Age Rating: 3+  Other console/handheld formats: Xbox One, PS3, Xbox 360, Wii
---
The arrival of the PS4 and the Xbox One consoles allowed EA to add in extra little touches in FIFA 14 which weren't present in the previous generation versions. With FIFA 15, they've took several steps forward in terms of the detail, and a number of little touches make the game more authentic than ever.
The overall presentation of each match is now even more like a TV broadcast, with the game seamlessly cutting to different camera angles, with a lot more variation than previously. There's also added emotion, as each player now remembers what happens in each match and will act accordingly through 600 different animations, with players showing things such as anger, joy and frustration based on what happens during the match. True, none of the things I have mentioned are game changers, but they will delight those looking for more realism and variation in their game.
Other little touches include the corner flags reacting to the ball and players coming into contact with it, improved facial animation, pitches that degrade as well as kits that become dirty over time, amongst other added details. Again, these things don't affect the manner in which the game is played, but they're welcome little touches all the same.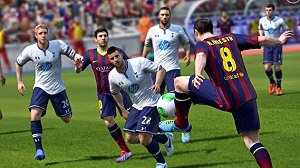 When it comes to the game itself, there's no big new headline features as such, but what can you expect from a series that EA have been perfecting for so many years now? The goalkeeper animations and AI are noticeably better for starters, making them look and feel more lifelike than ever before and they are more intelligent at making decisions as to when to leave their lines, although keepers do sometime still make some comedy errors. You are also now able to control the receiver of the ball during throw-ins, free kicks, corners and goal kicks, which is handier than just pressing the button and hoping the ball goes to your intended target, and this extra control is most welcome. Speaking of extra control, the dribbling now feels more precise than ever, and the silky smooth animation also makes it very satisfying to view.
But mostly when it comes down to it, FIFA 15 is business as usual and doesn't feel too different from last year, although the extra range of animations as well as the additional fluidity and control does once again mean that the game feels even better to play than the last one.
Modes remain mostly the same, and many players will once again find themselves in the hugely popular Ultimate Team mode. Like all the other options, this basically remains the same, although there's a new feature which allows you to loan players. As welcome as the latter feature is, it's hardly a massive game changing feature. The career mode also makes its return along with the wealth of multiplayer options.
With all the above said, FIFA 15 does enough to please those familiar with the series, and obviously a lot of new players will be pleased with how the game plays as well. The little details that have been added in make the game feel more authentic than ever and a lot more like a TV broadcast. The additions to the gameplay also make FIFA 15 worthwhile, although those expecting significant changes could end up disappointed, as this does feel quite a lot like last year's game. It's still the best one in the series so far though.
---
8/10
---