FIFA 14 PS3 Review
Publisher: EA Sports  Developer: EA Canada  Genre: Sports  Players: 1-22  Age Rating: 3+
Other console/handheld formats: Xbox 360, PS4, Wii, PS2, 3DS, PSP, Vita
---
With annual updates, the developers must feel as if it's a rather big challenge to get you to buy a game in a particular franchise every single year. The FIFA series is a good example of this. With that said, is there any real reason as to why you should make the upgrade to FIFA 14 over last year's release other than the fact that it has updated player squads?
Yes, out on the pitch the game has been tinkered with as opposed to anything else, although the results are surprising, with everything combining to make for a noticeably different game to last year's effort.
First up, the ball physics have been slightly tweaked, and the ball will now bounce more during certain situations, making for a more realistic game of football. The ball physics were already impressive, although with this little tweak, they are even more so, with the ball acting more true to life than it has ever before.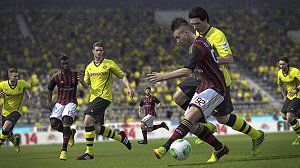 The game also introduces the Precision Movement system to the series for the very first time. This is a fancy way of saying that the players now move in a more realistic manner than previously. You can also run and move in more directions without the players slowing their pace because of this, which also adds to the realism.
When it comes to the shooting, the Pure Shot system allows you to score a bigger variety of goals than ever thanks to the addition of more shot types possible on goal. This is something else that adds to the realism of the entire game, and it also makes things feel that little bit less scripted than previously.
The improved AI also makes for a superior game, with players better moving into position to take passes to build chances. The same intelligence can be said of the defenders, with players closing down attacks in a smarter manner.
When it comes to play options, FIFA 14 typically spoils you for choice. The popular and addictive Ultimate Team mode makes its return, as does all the multiplayer options (now with co-op seasons), as well as the career mode.
The career mode now has a global scouting network. Now when you are looking for those all important new signings, you are given information that purely isn't just based around numbers anymore. You ask your scouts to search for players with particular strengths, and then they come back with a list of players for you. This is undoubtedly one of the greatest improvements to the career mode.
While having many similarities, FIFA 14 is a worthwhile upgrade from FIFA 13. There's enough here to make for a fairly different experience from the one that you may have had last year. The game is edging closer to being a full blown simulation, but it's still fun enough for those that don't want FIFA to become something totally unrecognisable to the game that they have come to love.
---
8/10
---