Best Web Hosting
SiteGround Web Hosting Review (2020)
You will find various Web Hosting companies when you are thinking of building a website for your business or purely just for fun. For example, there are so many that will appeal to the general consumer, with both cost and space being important when considering your options. Also, there are features that are more focused on your business such as e-commerce and server location.
SiteGround cares about all of your demands and does things very well. It offers a variety of hosting types with lots of performance and enhancing tools, and awesome 24/7 customer support is another attractive perk. Although SiteGround might be lacking in dedicated windows servers, it definitely offers more than enough for your own personal website or that of a small business.
Shared web Hosting
If you are looking to get web hosting for cheaper, then SiteGround shared web Hosting packages will be suitable for you. With shared hosting you can run several websites on your single server. With that said, you get such a plan for lower cost, but the trade off is that your website will share its home with other websites on the server. So if one website on the server gets a large amount of visitors then other websites will be slowed down a little.
SiteGround has many Data Center locations around the World such as Iowa – USA, London – UK, Eemshaven – Netherlands, Frankfurt – Germany, Sydney – Australia, and Singapore.
If you are a bit confused, then for your data security you can choose European Data Center, but you can also choose another location from where you get a large amount of visitors. Or you can just keep US Server as default selection from SiteGround. I don't think a big business needs those options but it's an excellent thing that SiteGround has such options available in any case. 
Would you like to buy Hosting From SiteGround ? you may go here : Buy SiteGround Hosting
Do I recommend SiteGround?
Yes, it is an excellent Web Host provider that serves many people around the world.
SiteGround is definitely a popular hosting option, with more than 2 million websites currently hosted from their Servers. That's why if you are looking to find a Web Hosting company for your new business then it is a top option for you to consider. If you are unhappy at your current Hosting Provider then, you can easily switch to SiteGround because they offer a free server to server Site Transfer service using the SiteGround Migration WordPress plugin.
Let's talk about the plan in a bit more detail. I have already discussed the cheaper option that is Shared Hosting. Use this guide and take a look to help decide which is the  best web hosting plan for your business. (Web host vs WordPress host should be written to anchor)
What's the benefit of using SiteGround Web Hosting?
SiteGround has a lot of reasons to recommend it as a Best Web Hosting Service. Below, I'm just going to highlight as to why they are one of the best when compared to some of the other providers out there.
High UpTime
Uptime is one the most important things when you are running a website. This is basically the time as to how long the server stays up and running without any issues.
In a recent test result, SiteGround has exceptionally high uptime  average in 12 months when compared to many rivals, which is fantastic for existing customers as well as those who might be thinking about using their services in the future.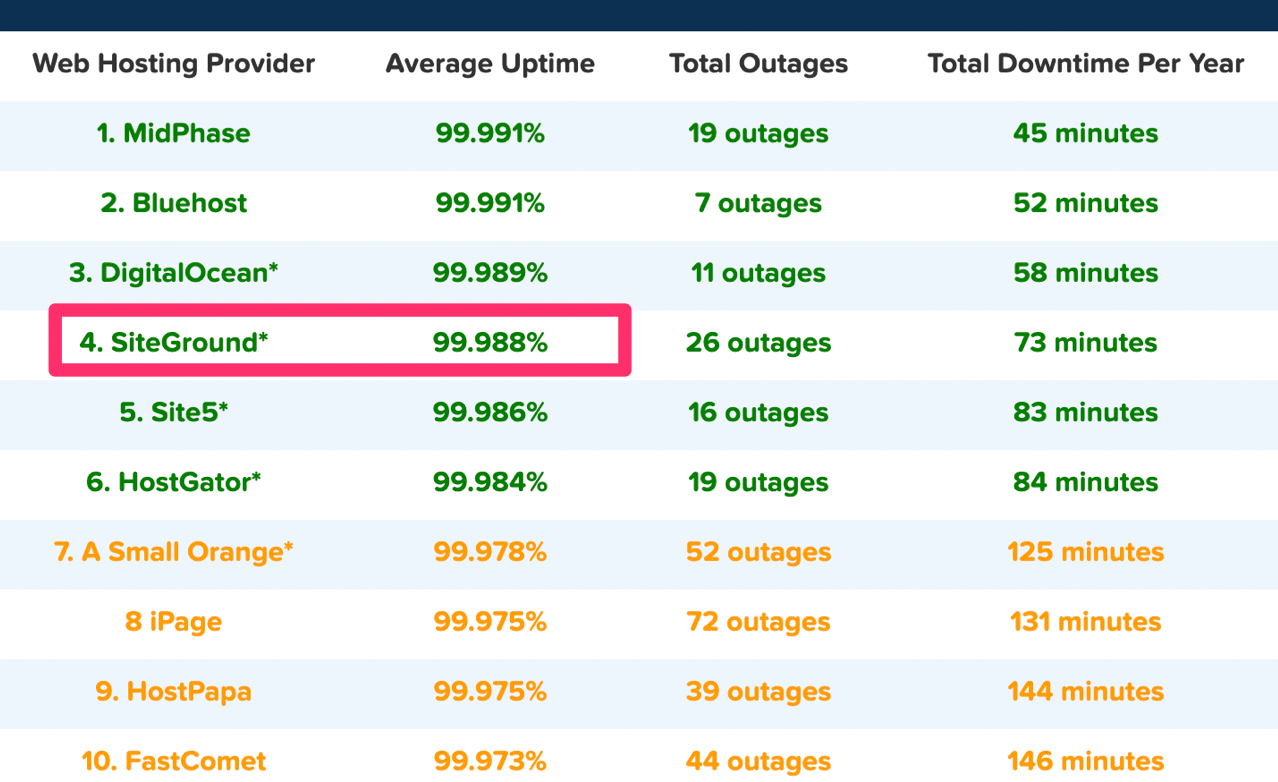 In 2018, SiteGround was placed 4th place on the above list, with their average uptime being 99.988%.  When you take a look at the list, you can see that it was a very close thing between SiteGround and third place. Whatever the case, a top five position is very impressive indeed, and is more than enough to make you feel confident.
From 32 shared Web Host providers their uptime is 99.59% but SiteGround is frequently higher. So I believe that, with everything said, you get a clear idea about the impressive Uptime. This means that if you have a website on their servers, it will be nearly always up and running under SiteGround.
Fast Load Time
You can't expect perfect speeds all the time, but please check the SiteGround response time here: https://rebrand.ly/siteground-respons-time .

So having spoken about the amazing uptime, it's now time to switch to the response time of SiteGround. In 2020 a whole year's response time was 653ms, and that is seriously impressive. To get the best web speed for your website there's always other additional optimization works that boost your website speed to consider.
Excellent customer support:
I believe your website should be absolutely fine under SiteGround but if any issues do crop up you can always reach out to the friendly support team with SiteGround live chat (24×7) or Call them Instantly. If you are a user of the GooGeek plan you will receive high priority support.
Free Features
Other web Hosts always try to suggest to you to make use of some of their add-ons for a price. But SiteGround gives you some excellent features at no extra cost.
Generally, in every plan you will get a Free site migration service which is mainly achieved through using a SiteGround migration plugin which we talked about earlier. Here you can see how to transfer a website using SiteGround migration plugin. If you have the more expensive growBig or GooGeek plans then you can expect a SiteGround professional to do this migration for you. Also they offer free CDN(cloudflare) and free SSL certificate, assuring that your website is secure at all time. Cloudflare will serve your videos, images, javascripts, css, and all large files from its own server, and it does so by utilising Cloudflare's nearest server location. So with all of that said, your own web server avoids the strain of a large request.
30 days money back guaranteed
SiteGround also offers 30 days money back guarantee for their shared hosting plans. So if you are not happy with SiteGround for any reason then you can cancel your plan and get a full refund. The dedicated and cloud hosting plans, on the other hand, give you the opportunity to claim a refund in 14 days. If you are not happy then just let them know and you'll get a refund, because this time frame is more than enough to know if you are satisfied or not with what they offer. SiteGround also guarantees that if they can't stay at 99.99% Uptime rate you can apply for getting a refund as clarified in their terms and conditions.
Conclusion
I would definitely recommend SiteGround as it's clearly one of the best Web Hosting solutions. They offer a big and varied range of web hosting types and plans, allowing you to decide which is best for your business. I believe it will be perfect for your business or personal website.
Would you like to buy Hosting From SiteGround ? you may go here : Buy SiteGround Hosting