Wrecked: Revenge Revisited Xbox 360 Review
Publisher – 505 Games – Developer – Supersonic Software – Genre – Racing – Players – 1-4 – Age Rating – 3+ – Other console/handheld formats – PS3
Mashed was widely considered by many to be one of the best multiplayer games ever released, when the game hit the PS2 back in 2004. Lots of people begged for a sequel, although it sadly never happened, but Wrecked: Revenge Revisited, developer Supersonic Software's latest game, is definitely what you could call a spiritual successor to the 2004 game.
Wrecked: Revenge Revisited takes the familiar approach to such a game. Players battle for the top of the game screen, leaving others to be eliminated as they get left behind. It's a simple concept that proved to be successful not only in Mashed, but also in the likes of Micro Machines and Circuit Breakers over the years.
Like Mashed, the game has an assortment of weaponry to attempt to disable and get ahead of your opponents with, of which is picked up along the way in each race. There are machine guns, shotguns, missiles and more to be fired at your opponents, with some great and rather exaggerated physics to be witnessed when you see vehicles exploding into the air. The Revenge Revisited moniker isn't there for no particular reason – when you get eliminated from a battle, you are then free to rain fire from the skies, which can be everything from homing missiles to cannon fire. Revenge is sweet, as they say.
There's a shunt move, in which you can knock your opponents off the edge of the track or perhaps into a readily placed mine. It's also possible to boost for short periods, although why on earth do you have to brake and then double tap the accelerator in order to do something that ordinarily happens through a single button press?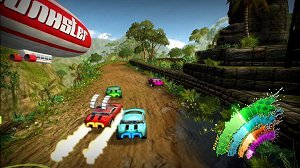 There are a total of six tracks, which is one of the most disappointing things about Wrecked: Revenge Revisited – a lack of content. Six tracks just isn't all that much in exchange for 1200 Microsoft Points. The compact tracks that are included are a great bunch, but if you want any more you'll have to fork out some extra cash.
The single player mode presents you with a number of challenges. You may find yourself with a vehicle armed with a bomb, having to tow a caravan around a track, being tasked with eliminating opponents with weapons, and so on. There's certainly plenty of variation over the 24 challenges, but, again, for the price there just isn't content.
The game is definitely at its best in multiplayer, and is what such games were really designed for. Wrecked: Revenge Revisited can be played online or locally by up to four players. Sadly, the online net code is rather spotty at this moment in time, although when it's smooth it's definitely a lot of fun. Presently, the best way to play the game is through local multiplayer, of which obviously doesn't suffer from the same problems as online play. It's rather shocking that, if you are playing with only two or three players, it's not actually possible to add one or two AI opponents into the game. The absence of such a feature is really mind boggling.
At least in other ways, Wrecked: Revenge Revisited is highly customisable. You can alter how the vehicles handle, tinker around with the cosmetics of your vehicles, and alter the required number of points to win the game, the power-ups, and more. It would be churlish to complain about the lack of options here.
Visually, Wrecked: Revenge Revisited is hardly anything special, although everything is fast and smooth and, in most situations, the camera does manage to keep up with the action. There's a likeable mixture of cartoon and realism to the visuals, but in no way is this a game that is pushing the consoles.
Wrecked: Revenge Revisited has a number of problems holding it back from true greatness. There's not enough content for the price, a rather up and down online mode, and some strange control choices and absent features. But, this is still a game that is hard to dislike – a game that, while too limited, does have plenty of fun moments.
6/10