WRC: FIA World Rally Championship 2 Xbox 360 Review
Publisher – Black Bean – Developer – Milestone– Genre – Racing – Players – 1-16 – Age Rating – 3+ – Other console/handheld formats – PS3

There are not many pure rallying games these days; in fact until Milestone developed last year's WRC game, there hadn't been such a game for five years, with the last being WRC: Rally Evolved on the PS2 back in 2005. Milestone's first WRC effort was met by mixed opinion, although, whatever the case, it certainly would have filled a void for those who grew disheartened with Codemasters for taking the DiRT series away from its Colin McRae rallying roots.
What's instantly apparent with WRC 2 is that, like the original, the game is definitely lacking in polish and feels as if it was put together on quite a tight budget. Visuals are inconsistent, for every decent looking car there's an ugly looking tree, and there's nothing that can be called truly spectacular. DiRT is a series that is powered by beauty, but Milestone's WRC series, while looking respectable enough at times, has yet to visually blossom. Perhaps the funds just aren't currently there.
It's lucky, then, that there's so much variation in the 78 stages that are spread across 14 worldwide locations. As a rally title, WRC 2 does capture the spirit of the sport. There's gravel, tarmac, mud, ice and snow, and more for your wheels to contend with, while deadly drops, unforgiving rocks, narrow paths and twisty bends give you a good reason to listen to your co-driver at all times.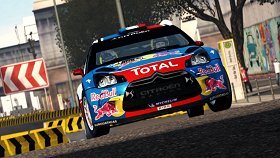 There's also 9 car categories, including WRC, Safari, Group B, and more. Which means there's plenty for both rally fans as well as variation for racing game enthusiasts.
The vehicle handling is impressive enough, with varying options for the rookie to the more serious virtual driver. If you opt to turn all of the assists off, the handling proves to be responsive (if you're not happy with it, you could always attempt to tinker with vehicle setups), although is lacking in full vibration feedback, while hardly matching something like DiRT for thrills. In truth, it all feels a bit soulless, but it's still the best modern day option for pure rallying.
WRC 2 also adds in a rewind option, allowing you, with a button press, to fix everything from the smallest overrun of the track to a major crash. But if it's something you don't like, you can turn it off and ignore it altogether. Milestone are keen to point out that they were one of the first developer's to implement the feature in a game, having helped introduce it in 2005's Squadra Corse Alfa Romeo. Here in WRC 2, it fortunately works a lot better than their dodgy first attempt.
WRC 2's career mode is massive, with you starting out as a small time driver, and then creeping your way up to the super stardom of the World Rally Championship. You'll be hiring staff to negotiate with sponsors and to carry out R&D to add upgrades to your motors, and you'll also be purchasing new vehicles to take out on to the track. The career mode should be the centrepiece of the game, and Milestone has made sure that it is.
But what's disappointing is that the career mode is menu heavy, and until you learn where everything is, getting around can be a bit of a chore. There are lots of options, but due to this clunkiness you may find yourself not entirely making use of everything, or at least not using some of the options as much as you may have if things had been better laid out. Menus are also very unattractive, which makes things even worse.
WRC 2 also has various multiplayer options. In my little experience with the online modes, everything seemed to work very well and was free of any crippling lag, although I was never able to find a huge amount of players to play against. Locally, there's a Hot Seat mode, in which you take it in turns to attempt to post the best time. This is very welcome and has been absent in all of the DiRT games, having previously appeared in the Colin McRae Rally series.
WRC: FIA World Rally Championship 2 may not be the most thrilling racing game in the world, nor is it the most spectacular, but Milestone has definitely got the basics nailed down. There's still plenty of room for improvement, but for those who have the desire for some virtual rallying, there's enough here to entertain you until Milestone hopefully delivers a superior third attempt.
7/10