Trials Evolution Xbox 360 Review
Publisher – Ubisoft – Developer – RedLynx – Genre – Racing/Platformer – Players – 1-4 – Age Rating – 7+ – Other console/handheld formats – N/A
Trials HD was such a good challenge. This was a game that was as much about fun as it was about skill. In this age of dumbing down, Trials HD was certainly one of the games to turn to if you were wanting something that required you to be constantly on the ball. Now, well over two years later, Trials Evolution has come along and made the original look rather inadequate in comparison.
Don't worry Trials HD veterans, Trials Evolution is still a game with a very good memory, and if games do indeed have memories, then this one certainly seems to remember all the good groundwork that its precursor laid down. Trials Evolution is still very much a Trials game, but everything has been blown up, things have been added, and, as a result, it's just one of those sequels that you can truly class as a dream follow-up.
For those not in the know, RedLynx's Trials games started life as a flash game, although the series is definitely best known for the Trials HD release on Xbox Live Arcade in the summer of 2009. The series is a 2.5D game, in which skilfully riding a motorbike through various courses is your task. Speaking of skill, developer Redlynx did a really marvellous job in tuning the physics to perfection, and you really have to keep a steady nerve to stay seated on the bike. To some, Trials HD got all too difficult all too fast, while others relished in its brutal difficulty.
Trials Evolution certainly addresses the difficulty level for the less confident player. The sequel has a much gentler learning curve – always increasing in difficulty with each new event, but, with licence tests that school you on the very basic to the much more advanced techniques, never suddenly throwing something at you completely out of the blue, that you may not have a complete understanding of. But skilled veterans need not worry, as Trials Evolution still has some challenging courses, although they just take a little longer to become available to you.
Speaking of courses, in both their colour palette and their locations,Trials Evolution has much more variety than Trials HD, which mostly took place indoors. Evolution gives you the opportunity to battle with the bike throughout around 60 amazingly varied courses – there are so many different backdrops and obstacles to deal with, that getting bored would be almost impossible. You'll be racing through woodland, alongside a castle, across a bridge suspended high in the sky, over collapsing dams, and much more besides. There are even a few courses inspired by other games, with gaming gems such as the likes of Shadow of the Colossus and Limbo receiving this very special treatment.
The track design is genius, as is the manner in which the difficulty of each track increases. RedLynx certainly know exactly what they are doing when designing a track, and if anyone asked me which are the bad ones of the bunch? Well, I just couldn't answer them, as each and every one of these tracks is masterful in their design. Tracks are slotted into beginner to the much more technical and tough extreme courses, and you'll have to be really confident in the bike saddle to get through the lot. Luckily, if you are struggling with a course, you can always refer to viewing the runs of the top players on the leaderboards, and learning from the best is definitely key to improving your own game.
Trials Evolution also has plenty of replay value. When you reach the end of a course, you'll be awarded a bronze, silver or gold medal, but for some a bronze or silver just won't be good enough, and they'll be back again and again in order to get hold of the shiniest medal, with platinum medals becoming available later on. There are also those out there who will just want to beat their friends best runs, and seeing them out on the track certainly adds a competitive edge. Speaking of competition, Trials Evolution introduces multiplayer.
The multiplayer certainly doesn't feel like an afterthought. You are able to race against the live ghosts of others across all the tracks that you'll be riding on in the single player portion, although it's also possible to race side-by-side on Supercross tracks, and, with a pleasing scoring system, this is where the multiplayer is at its best. Supercross racing (restricted to online play) penalises you for taking a tumble off your bike, docking you a point each time you crash, and you'll also lose points if you finish lower than first position. Multiplayer can be played locally or online, and, as it adds so much to the Trials Evolution download, it's more than a mere extra.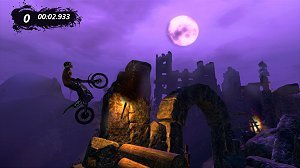 Then, of course, there's the returning track editor, which allows you to put together your very own tracks. Being that this is exactly the tool that RedLynx used to create their own tracks, obviously the passionate creators out there can truly put their own stamp on their designs. That said, whilst it's unlikely that you are going to beat RedLynx at their own game, it's certainly very possible to match their best track designs. The feature was present in Trials HD, although it wasn't possible to share your creations with others around the world, so this is yet another feature that is going to add endless longevity to the game.
Like I mentioned when I opened this review, Trials Evolution is a true dream follow-up. Much has to be said for the amount of improvements and additions that have been added to this sequel, building upon an already hugely entertaining game, and somehow making it ten times better. I do have to wonder where RedLynx will take the series next, but, as sequels go, this first Trials HD follow-up is something truly special, a game which better caters to two very different audiences, and one that does more than enough to live up to its 1200 Microsoft Points asking price.
9/10