POSTS TAGGED 'From Software'
E3 2019: Elden Ring officially announced, but little revealed
Leaked before it was official, Elden Ring is a collaboration between A Song of Ice and Fire (or Game of Thrones, as it's known on TV) author, George R.R... [Read full story]
E3 2018: Sekiro: Shadows Die Twice brings samurai action to Xbox One
Revealed at Microsoft's E3 Conference was Sekiro: Shadows Die Twice, which is a samurai themed game from developer From Software and publisher Activision.... [Read full story]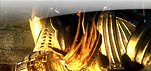 Dark Souls: Remastered is happening
If you have been fancying a remaster of Dark Souls, you'll be glad to learn that the rumors are indeed true and that the remaster is actually happening.... [Read full story]
News – Bloodborne: Game of the Year Edition is coming in Novembe...
The acclaimed PS4 Action RPG, Bloodborne is getting a Game of the Year Edition, which features the game and its upcoming expansion, The Old Hunters. Bloodborne... [Read full story]
Dark Souls III on the way
For those who like to test their gaming skills, you'll be able to do so once again once Dark Souls III arrives in early 2016 on PS4, Xbox One and PC. Hidetaka... [Read full story]
Bloodborne load times could be improved
The upcoming Bloodborne apparently has some rather lengthy load times, although Sony have revealed that developer From Software are working on a patch... [Read full story]
News – Dark Souls II: Scholar of the First Sin release date brou...
Dark Souls II: Scholar of the First Sin will now be released a week earlier. It was set for release on the 7th of April but will now arrive on the 2nd.... [Read full story]
News – Dark Souls II coming to PS4 and Xbox One
Dark Souls II is coming to PS4 and Xbox One on the 7th of April, Bandai Namco has announced. Dark Souls 2: Scholar of the First Sin will also launch on... [Read full story]
News – Bloodborne gameplay video
From Software's eagerly awaited PS4 action RPG, Bloodborne has been shown in greater detail with a 6 minute gameplay video allowing you to see the dark,... [Read full story]
News – Bloodborne unveiled
BloodBorne, the rumoured spiritual successor to Demon Souls has been announced at Sony's E3 conference. The dark action RPG developed by From Software... [Read full story]
Next Page »