Super Stardust Delta PS Vita Review
Publisher – Sony Computer Entertainment Europe – Developer – Housemarque – Genre – Action – Players – 1 – Age Rating – 3+ – Other console/handheld formats – N/A
Whilst Super Stardust did make an appearance on the PSP, it was unsurprisingly compromised by the system only having a single stick, not exactly a good situation for a twin-stick based shooter. Conversely, Sony's lavish new portable system, Vita, boasts two little sticks, offering the potential for such games to feel like a comfortable fit for the format.
Super Stardust Delta, is, like its predecessors, a more complex version of Asteroids that on a basic level sees you taking charge of a little ship and disintegrating the incoming asteroids and other hazards with various weapons. Each stage has five phases, the last of which culminates in a boss encounter that often calls for the use of multiple weapons. Visually, Vita's beautiful screen displays the multitude of colourful effects and numerous enemies wonderfully and sharply, resulting in a game that looks pretty much like a miniature version of the PS3 game, whilst in a controls sense Vita's sticks perform just as capably as those on the DualShock controller.
Things get slightly more complex when you consider that enemies either have a fire or ice property and the best way to deal with them is to use weapons of the same element. You're able to power up each of your weapons by picking up items, granting some subtle strategic choices to the game.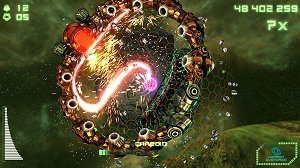 Additional complexity comes with a score multiplier system, that resets whenever you lose a life. Destroyed objects and enemies also often leave behind points, of which can be picked up simply by touching them, though boosting into them will reward you extra points and the more you pick up whilst boosting, the larger the points payoff.
There are two modes on offer, Pure offers an experience that is akin to Super Stardust HD, with a boost capability and traditional controls. Delta on the other hand allows you to trigger black holes and missiles with the touch capabilities of the system, whilst there's a slow motion boost, though the mode doesn't really add much of note to the Super Stardust formula.
As a score attack game with online leaderboards, replay value is potentially endless, and granting further value to the package is a mini game mode that tasks you with doing such things as crushing asteroids by using the touchscreen and the touch pad at the same time, or aiming at enemies with the gyroscope. They're not particularly satisfying and just really feel as if they exist to show off Vita's capabilities.
Super Stardust Delta might well be a mere mechanical refinement, but as a game that was already easily amongst the best of its type, not much more was expected and  it's ultimately a faithful portable interpretation of Super Stardust and the result is an early Vita highlight, much like it was for the PS3.
9/10