Skylanders: Trap Team PS4 Review
Publisher: Activision  Developer: Toys for Bob  Genre: Action, Platformer  Players: 1-2
Age Rating: 7+  Other console/handheld formats: Xbox One, PS3, Xbox 360, Wii, Wii U, 3DS
---
I'm sure many parents hate Activision. Back in 2011, the publisher released Skylanders: Spyro's Adventure, a videogame and toy crossover, which was to have much success, with both the game and the toys flying off the shelves. Many parents were likely out of pocket when their demanding kids asked for as many of the toys as possible to use in the game. Fast forward three years later, and the Skylanders franchise has just launched its fourth game, which will likely have youngsters once again asking their parents for the latest toys to use with the game.
The biggest change in Skylanders: Trap Team is the fact that you are able to play as defeated villains for the very first time, although these lot don't have a single toy to their name. To play as villains, you first have to trap them in the Traptanium Portal, which is a necessity for Trap Team, with previous portals being redundant with the game. To trap defeated villains, you must have the correct elemental trap to slot into the Traptanium Portal, and without this, you'll just have to leave the enemy behind. The Starter Pack of the game only comes with water and earth elemental traps, which means that if you come across an enemy that can be trapped with, say, a magic trap, you won't be able to trap him or her until you pay out more money for the trap.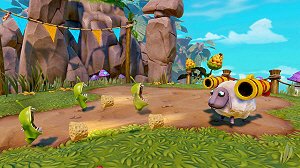 Once you have trapped enemies in the Traptanium Portal, it's then possible to tag them in to take the place of your Skylander. You then have control of the villain for a little while, and are able to make use of his or her's unique abilities. After use, you'll then have to wait for a bar to recharge before you have full use of the villain once again. During co-op play, the current enemy in use is shared between players, meaning only one player can take control of the villain at any one time.
When it comes to the Skylanders though, these lot have obviously not been left untouched, and Trap Team introduces the larger and stronger characters that are the Trap Masters. Unlike the villains, the Trap Masters have a line of toys to use with the game, and are important in the way that you need them to open up certain elemental gates to get into many of the optional areas. With the latter said, your previous toys are useless in this manner. Yes, all the previous toys can be used with the game, but none of them will open up any elemental gates for you in the way that they did in previous Skylanders games. The Starter Pack includes only one water-based Trap Master and one regular life-based Skylander, which means you'll have to buy a lot more Trap Master figures in order to unlock extra areas.
When it comes to how the game plays though, little has really changed. Trap Team is still an action platformer with lots of jumping and simple combat and you are still able to upgrade the abilities of your Skylanders. Still, those who enjoyed the brilliant Skystone Smash in Skylanders Giants will be glad that the card game makes its return after being absent in last year's Skylanders: Swap Force. The Kaos Doom Challenge is a new addition, of which has you taking on waves and waves of enemies, and there's also tower defence elements in the mode as well, with you being able to add guns between rounds, which will help you keep the crowds of enemies under control. Like the rest of Skylanders, it's fun and particularly enjoyable with a co-op partner.
Visually, Skylanders: Trap Team is very pleasant, colourful and eye-catching to look at. The detail in the character models is impressive, and the vivid environments are also highly attractive.  The burst of colour will definitely grab kids attentions, as well as those who just  see such colourful games as a nice change to all the colourless games that they often play.
Like always, Skylanders: Trap Team is a game that does its best to try and get players to purchase further toys and accessories, although this is more obvious than ever. Kids and collectors will just be glad that there's more detailed toys available to buy, although many others may balk at the amount of finances that is required to access the optional content. Still, despite the flaws, Skylanders remains one of the best and cleverest kids games out there.
---
8/10
---