Pro Evolution Soccer 2016 PS4 Review
Publisher: Konami  Developer: Konami  Genre: Sports  Players: 1-10  Age Rating: 3+
Other console/handheld formats: Xbox One, PS3, Xbox 360
---
If anything is to be said about PES 2016, it's that it brings the fast and fluid fun back to football games, which means constant goalpost to goalpost action. In some ways, the game actually reminds me of the football games of past, before they started obsessing with painstaking realism. With that said, there are two very different options this year: there's the fast and fun PES 2016 and the more realistic and assured pace of FIFA 16.
With PES 2016 we still get a realistic game of football, particularly with the convincing animations, with players battling for the ball in ways never seen before. Resulting animations to different situations are now less predictable, and it really has to be seen in action to be truly appreciated. Combine this with the always excellent ball physics, and the on-pitch action is better than it has been for awhile.
Each match in PES 2016 certainly has an amazing flow and pace, and the brilliance of your team mate AI does nothing but help this. AI team mates make helpful runs into position and are always moving in a wholly convincing manner. In fact, I don't think it would be over the top to say that the team mate AI in the game is the most realistic and remarkable ever seen in a football game.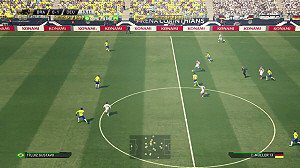 The referee AI is sadly a little suspect though, with obvious fouls being ignored more frequently than they should. But even more serious is that the goalkeeper AI isn't up to scratch, with most attempts at goal sailing past his gloves and into the back of the net. It's not that the keepers don't make believable effort to stop the ball, as they actually do this the vast majority of the time, although it's a rare occurrence that they manage to catch the ball or even punch it away. The poor goalkeeper AI is really such a shame and does spoil things somewhat, but at least it's still possible to score some incredible looking goals.
The fluidity to each match means that this is one of the most responsive football games that you could possibly play.  It feels like the players and ball can be moved around at all times, with no animation limitations holding things back. With the latter said, the game never fails to be anything less than slick and responsive.
Fans will be glad to know that deep modes such as the longstanding Master League makes its return, while the more recent MyClub also makes its return. The Master League comes included with a new and improved transfer system, and is once again a mode in which many will put hours and hours of their time into. As for MyClub, it now allows you to use individual players as trainers, and this, and other improvements, means that Konami's compelling answer to FIFA's Ultimate Team mode is on the rise. Thankfully the netcode of the game has proven to be more stable than it has been in recent years also.
When it comes to capturing the sport itself, the lack of many top club names will still irk some, although the full edit mode makes a welcome return to this PS4 version of the game. The commentary from Peter Drury and Jim Beglin is decent enough on the other hand, although it becomes repetitive quite quickly and some of the enthusiasm sounds rather fake during moments of goalmouth action. The visuals are meanwhile impressive enough, particularly when players are viewed up close, although a lack of detail in the pitch and lighting can be seen from time to time.
With poor goalkeeper AI and questionable referee decisions, there's no getting away from the fact that this is one game that has its drawbacks, but PES 2016 is still a fast moving football game with smooth animations and controls, and it's easily the most instantly enjoyable virtual representation of the sport this year. But with some added improvements, perhaps next year we'll have Pro Evolution Soccer's return to classic status and something very, very special on our hands once again.
---
8/10
---