Powerstar Golf Xbox One Review
Publisher: Microsoft  Developer: Zoe Mode  Genre: Sports  Players: 1-4  Age Rating: 3+  
Other console/handheld formats: N/A
---
Golf is a game that is in need of personality to liven it up somewhat, and with its colourful cast of characters with their crazy abilities, Xbox One launch title Powerstar Golf is like Everybody's Golf and Mario Golf before it, a game that makes the sport a far more interesting and vibrant prospect, for those that usually find the sport to be too sedate to thrill.
Which isn't to say that the game has the level of personality of those two series', character design is too bland and, for such a cartoony looking game, there's a strange absence of both a sense of humour and chirpy music, which could have granted an extra layer of charisma to a game that, with its inviting colourful artstyle, still manages to charm.
The gameplay mechanics aren't really anything out of the ordinary while out on the fairway. Shots are taken with the traditional three click method, first setting the power and then the accuracy, and you must account for things like wind direction and strength and the elevation and layout of the green. In spite of the cartoonish visuals, the ball behaves accordingly with the environment. It uses the same easy to learn but hard to master ethos that Everybody's Golf does, though it's harder to play than that game ever was, requiring more precise timing to hit perfect shots.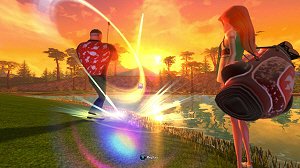 In an interesting twist, all six characters have a unique ability, for instance magician Henry can conjure up multiple balls with his Illusion Ball ability, and the one resting closest to the pin will be his next shot, and scientist Reiko can use magnetism to pull the ball towards the hole, so perhaps it's a lie to say the ball always behaves realistically.
Challenges will pop up from time to time, tasking you with performing certain actions such as landing within close proximity of the cup, or getting birdies on so many holes and successfully completing them will reward you with some lovely XP.
In fact every good thing you do in Powerstar Golf, such as getting pars or birdies, breaking records, landing on the fairway, good recoveries from the rough, bunker and such will net you XP bonuses, which allows you to leave behind all the rough, bunkers and water hazards, that you might well have spent too much time in on your less successful attempts and still feel as if you have achieved at least some degree of success.
XP doesn't improve your character, but will instead unlock new events in the fairly extensive career mode, which is an excellent structure, allowing you through some time and effort to eventually get access to all events and courses, without the need to complete earlier events.
The career is split into six series', with most of them offering eight events, some of which are focussed on just par 3 holes for instance, while some are made more difficult by powerful wind. Many series also plays host to a character which you can take on in various events and unlock as a playable character.
Aside from the XP system, the game takes further inspiration from the RPG genre with a random equipment mechanic, which are colour coded in RPG fashion. New clubs, balls and boosters (these can be equipped to reward stat bonuses and such in case you're wondering) can be purchased in the shop, with the beautiful thing being that you don't quite know what you're going to get. Microtransactions are an option but never feel as if they're forced on you, so with a bit of luck, you're able to get your hands on some of the best equipment without ever having to pay for it with real money.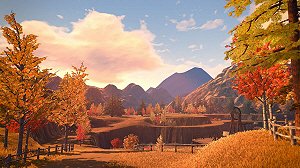 The four courses are well constructed and some are a combination of realism and fantasy, with one course having some holes surrounded by lava for instance, but perhaps some will feel that the developer could have let their imagination run a bit more wild, as for the most part the courses, while looking lovely and well laid out, are ordinary.
As far as multiplayer is concerned, 4 player local multiplayer is supported, but those hoping for online play will be left disappointed. In its place you can try and break records of others and you also get Rival mode. The latter mode allows you to take on AI versions of players best scores for each course, and winning will reward you a hefty XP bonus, while if someone takes on the AI version of yourself and loses you'll get XP that way too, which can be a very nice surprise. As good as Rivals mode is, it's still no substitute for taking on players in real time.
Powerstar Golf doesn't offer quite as good or personality laden game of golf as the likes of Everybody's Golf and Mario Golf, nor does it show off the might of your new console, but is still robust in all the areas that matter. The game is further elevated by some wonderful and well realized ideas that makes it a worthy purchase for early Xbox One owners that are looking for a golf game with cartoon charm, but one that, within its mechanics, is largely still very much based in reality.
---
8/10
---