Pilotwings Resort 3DS Review
Publisher – Nintendo – Developer – Monster Games – Genre – Flight– Players – 1 – Age Rating – 3+ – Other console/handheld formats – N/A
Despite starting way back in 1990 in Japan, in 2011 the Pilotwings series just received its third game with this 3DS version. Compared to the yearly output of the likes of Call of Duty and Assassin's Creed, and, in spite of its long history, the series appears to be a lot younger than the aforementioned franchises.
The last time we were treated to a Pilotwings game was with Pilotwings 64, which was released here in Europe in 1997 as an N64 launch title. Pilotwings Resort, the newest game in the series, was also a launch title, releasing along Nintendo's 3DS handheld in the March of last year.
Pilotwings is all about the joy of flight and the beauty of being in the sky, and never has it been more evident than it is so with Pilotwings Resort. You'll get to fly everything from hang gliders, planes and jetpacks as you take to the blue skies of Wuhu Island (first introduced in Wii Sports Resort) with your Mii, and, just as long as you have the eyes for it, it can also be viewed in glorious 3D.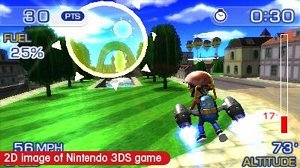 The main mission mode is comprised of Training, Bronze, Silver, Gold, Platinum and Diamond classes. To unlock the next class, you must gather a certain amount of stars in the previous class. Stars are earned at the end of missions: do spectacularly badly and you won't earn a single one, but otherwise you'll earn one to three stars based on how well you faired. The Diamond class is, as you'd expect, the toughest to unlock – you'll have to earn three stars in the silver, gold and platinum classes to be given access to this final class.
Missions are fun and generally brief enough to suit portable play. There's target shooting, balloon popping, stunt runs, fire fighting, and more. Many of these missions end with you attempting to land your vehicle safely, and, when there's a target to hit, landing on the centre target earns you more points – you know which one you're always going to be aiming for, then.
Points are also earned based on the amount of time that you took to complete the mission, the amount of fuel that you have remaining in your tank on specific missions, and more.  You'll lose points through collisions, although the actual points system is very lenient, being that you can get the maximum three stars without having to get the maximum amount of points that you are able to score in a level.
Sadly, the Mission mode is over all too soon, with the possibility to see it all within three or four hours. Obviously if you are attempting to hit the highest scores, then there is reason to return, although it's still a real shame that it's so limited, and does take away from the game considerably.
A Free Flight mode does give you the freedom to fly around the island, although you'll only get 2 minutes to do so in each session. You can read brief descriptions of the islands' landmarks, pop balloons; perform stunts through rings, and more. Do enough of these tasks and you'll unlock 3D dioramas, many of which look as if they are truly popping out of the screen if you can rotate them to the correct angle.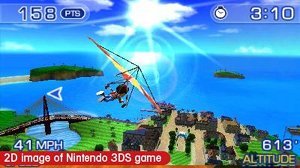 Visually, with its blue skies and orange sunsets, and expansive vistas, Pilotwings Resort is very attractive indeed, and this is without the 3D turned on. The 3D not only makes the island of Wuhu feel like a larger playing space, adding in a depth to the environment that just isn't there when the slider is set to the bottom, but it also gives you a better sense as to where you and other objects are in the environment, which is handy to know and, at least in my experience, it makes the 3D all the more worthwhile.
Pilotwings Resort is a truly enjoyable experience, and the 3D makes taking to the skies extra special, but it's a real shame that developer Monster Games couldn't have got more content in there. I assume that Nintendo gave the developer a tight time limit to work with, and it's this that has really turned the game into a rental over a must have at its current asking price.
7/10