News – THQ Announces uDraw GameTablet
THQ has announced an innovative add-on for the Wii, a tablet with 4″x6″ drawing space, in which there's a space to pop a Wii remote in, allowing the tabelet to draw its power from it. It also comes complete with a pressure sensitive stylus.
The GameTablet will come bundled with uDraw Studio: an art based drawing game, which is apparently expansive in its features. Furthermore, two games will be released on the same day: Pictionary and Dood's Big Adventure, which are both designed for use with the GameTablet. Pictionary, of course has you sketching pictures for other players to attempt to guess what they are trying to convey, although THQ's version also has some new features. Dood's Big Adventure allows you to customise your characters, and your own sketches, characters and background art cleverly show up in the game itself.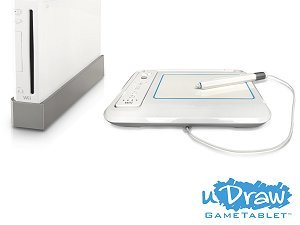 "We've designed the uDraw GameTablet to offer something for everyone: the kids can doodle, save their creations on an SD-Card and print their artwork for display on the refrigerator. Students can improve their skills through in-game tutorial lessons. And the whole family can sit down together for family game time with products like Pictionary," Said Martin Good, the Executive Vice President of THQ Kids, Family, Casual Games and Global Online Services.
Steve Singer, vice-president of Licensing for Nintendo of America, added: "We are impressed with THQ's innovative design and focus on bringing a new gameplay experience to the Wii owner with their uDraw GameTablet. Nintendo is committed to providing fun and unique experiences and THQ's uDraw GameTablet seems destined to continue that trend."
The Americans get it in time for Christmas, although uDraw GameTablet won't be out in PAL places until early 2011. The price is also yet to be announced.