News – Syndicate revival revealed
EA has revealed that the Syndicate series is set to be revived, this time in the guise of an FPS.
Syndicate is under development at Starbreeze Studios, the developer responsible for the likes of The Darkness and the Riddick series.
The game takes place in 2069, and you apparently take control of Miles Kilo, Eurocorp's latest prototype agent. The theme of the story, penned by science fiction author Richard Morgan, is that of mega corporations at war with one another, with a trio at the forefront fighting for the American marketplace. Expect other themes such as corruption and revenge.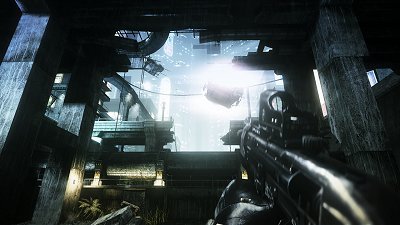 Due to a bio-chip implanted in your character's head, you'll be able to slow down time, and there's also upgradeable hacking mechanics.
"We are excited to finally reveal what we've been working on the past couple years," said Mikael Nermark, CEO of Starbreeze Studios.
"It's been a great experience working with EA, and an amazing opportunity for us to use our expertise in the first person shooter and action genres to bring back, and reignite, the signature action/espionage gameplay of Syndicate."
Jeff Gamon, EA Partners Executive Producer, also commented:
"Our goal with Syndicate is to provide a challenging action shooter for today's gamers as well as fans of the original. I'm sure they will enjoy and recognize the legacy that made it such a classic,"
"Fans of the franchise will recognize many weapons and environments in the game, but in a whole new way. The game also provides a separate and deep 4-player co-op mode featuring missions from the original cult classic, which adds another layer of depth to the overall experience."
Syndicate will be released early next year on Xbox 360 and PS3.