News – Puzzle Bobble Universe announced for 3DS
On the 22nd April, Square Enix will release a new Puzzle Bobble game on the 3DS. Puzzle Bobble Universe will feature two modes, including an 88 stage Puzzle Mode and a Challenge mode which tasks you with bursting as many bubbles as possible within a certain time limit and so on.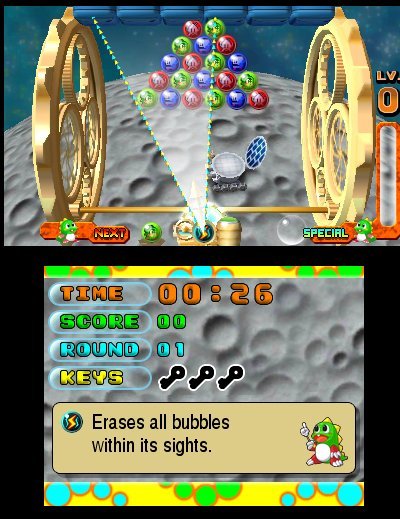 There's also dramatic visual effects thanks to the 3DS' amazing screen, adding in a real sense of depth.
"PUZZLE BOBBLE UNIVERSE sees the colourful classic get a 3D makeover. The gameplay mechanics and vibrant visuals associated with the series perfectly suit the new console's capabilities. PUZZLE BOBBLE UNIVERSE is sure to be a must-have title for any 3DS owner." Larry Sparks, Vice President Brands PAL Region of Square Enix, obviously thinks every single 3DS owner should buy the game when it launches on April 22nd.