News – Konami announces Birds of Steel
Gaijin Entertainment, the developer behind IL-2 Sturmovik: Birds of Prey, are working on a new flight combat game for Xbox 360 and PS3, which is to be published by Konami. Birds of Steel is set during some of the most significant events of World War II, including Pearl Harbour, the Battle of Midway and Guadalcanal, amongst others.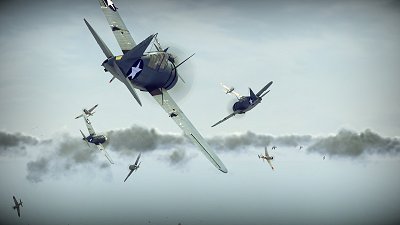 Birds of Steel will feature 100 authentic birds, although the un-feathered kind that are made out of chunky steel. The game will also contain eight famous campaigns, and you'll be able to play as either the Allies, Axis or the Japanese.
There will be various control schemes available, of which range from friendly and arcade-style to more challenging and authentic. There should be something to please everyone, then.
Online multiplayer will also feature, in which there will be team deathmatches, co-op strike missions, airfield raids and tournament play.
"For far too long, first-person shooter fans have been tied to the foot soldier point of view, but we aim to bring the seat-of-their-pants skill and daring of dogfighting and aerial combat to a wider audience," said Martin Schneider, General Manager, Konami Digital Entertainment GmbH.
"Birds of Steel pushes the throttle of realism by giving fans what they've been missing when it comes to co-operative online gameplay, incredibly realistic visuals and game dynamics, while spanning the entirety of the war's air campaigns." He added.
Birds of Steel will be released early next year on Xbox 360 and PS3.