News – EA reveals My Garden for 3DS
EA has announced a new game for Nintendo's upcoming 3DS. The game will allow you to create your own garden without getting soil all over yourself.
There's hundreds of flowers and plants on the cartridge and, as you can see below, it's all very colourful.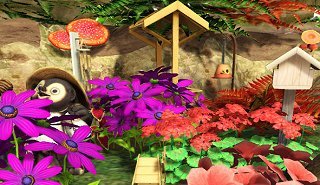 You're not alone as you attempt to make your garden into a colourful and attractive place. Joining you is Tanuki who has 20 different abilities in order to make the garden the best possible garden ever. The garden will eventually attract visitors including birds and butterflies, and it's possible to unlock rare and exotic flowers.
Rod Humble, Executive Vice President of the EA Play Label sounds like a keen gardener: "With My Garden*, our aim was simple: to make something beautiful that comes to life on the Nintendo 3DS like no other platform. We hope to offer a game that's so immersive that it truly brings the delight of owning a garden to life through a visually stunning 3D experience."
My Garden will be released for 3DS around the launch of the device, whenever that may be.