News – Call of Duty: Black Ops Collector's Editions
Pre orders are now open for the geekiest Xbox 360 and PS3 edition of Call of Duty: Black Ops, or the Prestige Edition to give it its proper title.
The cheaper Hardened Edition comes with a medal and display case, four extra co-op maps, an avatar outfit and a steel case, and all of that is also included with the Prestige Edition..
Right, the Prestige Edition. As mentioned, this version comes with all the above, but the pricey extra is an RC-XD Video Surveillance Vehicle (as seen in the multiplayer), which comes with a colour screen that transmits video and audio. It's £129.99 for the Prestige Edition, but will no doubt be worth it for serious hoarders who like to collect all the gaming extras that they can find. It's available for exclusive pre-order here in the UK through GAME, Gamestation and HMV.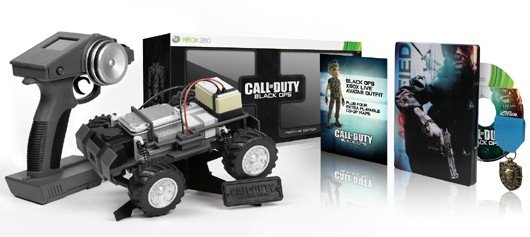 Call of Duty: Black Ops is out November 9th on PS3, Xbox 360, Wii and PC. Expect it to be big.