News – 505 Games announces Wrecked – Revenge Revisited
Supersonic, the developer behind the much loved multiplayer game that was Mashed, is putting together another racer. Wrecked – Revenge Revisited is a game that encourages aggressive driving, with weapons being more important than laptimes. Apparently destroyed opponents will be able to take their revenge with air strikes, which sounds like it could cause quite a bit of chaos.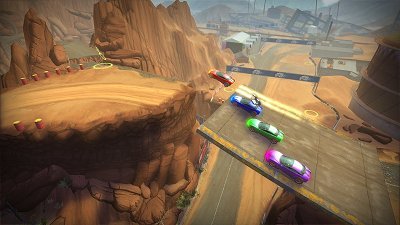 Single player will be comprised of 24 challenges, while multiplayer will be offered for up to four players through local player and online.
Pete Williamson, Supersonic Managing Director, wants to bring soul and humour back: "We're really excited to partner with 505 Games to bring the spiritual successor to Mashed to our existing fan-base and our unique style of racing mayhem to a brand new audience.  We want to bring some soul and humour back into the racing genre, and can't wait for PSN and XBLA consumers to get their hands on Wrecked – Revenge Revisited."
Tim Woodley, Global Brand Director, 505 Games also commented: "With WRECKED, Supersonic are again able to show just how good they are at putting together irresistible, pick up and play racing action,"
"MASHED was a one-off title that has yet to be toppled in the fun stakes, and we're proud to be able to bring a modern take on a classic to a new generation."
The game will be hitting Xbox Live Arcade and PSN in the spring thanks to publisher 505 Games.