Need for Speed: The Run Xbox 360 Review
Publisher – EA – Developer – EA Black Box – Genre – Racing – Players – 1-8 – Age Rating – 16+ – Other console/handheld formats – PS3, Wii, 3DS

EA Black Box are old hands when it comes to the Need for Speed series, having developed games in the series since way back in 2002, making seven games between then and 2008, with the series then being batted between Slightly Mad Studios (Need for Speed Shift in 2009) and Criterion (the people behind last year's excellent Need for Speed: Hot Pursuit reboot). Now EA Black Box are back with a new Need for Speed game, and one which had a lengthy development period of three years.
Firstly, Need for Speed: The Run does have a story, although there's little reason to mention it in any great detail, and if you really want to know what's going on, you'll have to fill in some of the blanks yourself. Man (actor Sean Faris borrowed both his look and his voice to Jack Rourke, the lead character) gets into bother with the mob; man needs a lot of money to repay his debt, man then enters an illegal cross country race across America in an attempt to win the jackpot, thus getting the mob off his back. It's simple and does the job, but nothing more – characters are bland and uninteresting, and the main story is definitely told out on the track.
The main mode has you starting the race in the lowly position of 250th, with the objective being to move up the field as you race from San Francisco to New York, covering miles and miles of US roads. But, as you'll find out straight away, The Run isn't just a straight racing game – a quicktime event and speeding away from the mob instantly proves this, with racing soon entering the equation.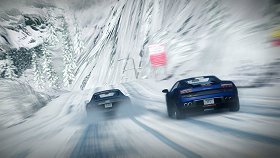 Indeed, The Run is a mixture of action and racing, although certainly to a lesser extent than, say, Split Second. While the primary thing you'll be doing is definitely the racing, you'll also be dodging gunfire and racing around and past obstacles, including the police. This certainly adds in some variation to the mode, and alongside the splendid visuals, it makes it feel like a blockbuster film.
Some may not be overjoyed by the scripted feel of some of the races, although if you can take it for what it is, that being a cinematic racing game with lots of thrills, then Need for Speed: The Run provides a truly exhilarating experience.
Sadly, the Run mode can be completed in around two hours, with the game tallying your times up across the ten stages in the mode, although it obviously doesn't take into consideration any of your failures, so your final Run time may not be particularly accurate. Still, tough sections do seem to be in there to artificially extend the lifespan over anything else, and I would certainly have liked to see a longer single player mode. Still, it's all very memorable while it lasts, which is a lot better than 6-8 hours of boredom.
While it doesn't quite have the character of last year's Hot Pursuit, the vehicle handling is still likeable enough. There's a feeling of intuitiveness to the handling, although it also feels weighty and does require a spot of patience to fully master it, with vehicles from different classes also handling differently.  Luckily, then, the game includes the popular rewind (or reset, as this game calls it) feature, in which you can return – manually via a button press or automatically after being wiped out – to the last checkpoint that you passed through. The difficulty level determines how many of these you'll have at hand in each race, although it's just a shame that the game is so inconsistent with how far off the track it'll allow you to go before it decides to use a reset, sometimes allowing you to veer slightly off and other times deciding that you're too far off the track despite merely clipping the side. Another negative is that loading times to return to the track are rather lengthy. In fact loading times in general are longer than many would like.
Some Run races will task you with having to pass 10 opponents, others will have you racing through checkpoints to make up time, others have you passing opponents and making sure to be in the lead when the countdown timer reaches zero, while head-to-head races are also in there. Along with the occasional action piece, this is more than enough to keep the mode interesting, with events being mixed up admirably well.
QTE's are a rare occurrence, although they certainly hit the spot and are notable as you are normally controlling your character on-foot, a first for a Need for Speed game. If you are one of the many that hate such QTE's, then you'll be pleased to know that these don't appear very often at all.
As this is a cross country race, the ever changing scenery is also varied. There are built-up city locations to drive through, windy mountain paths, farmland, forests, deserts and more to whiz through. The game is powered by DICE's Frostbite 2 engine, and the visuals are beautiful, with detailed character models, lighting, snow, superbly detailed cars and a rarely faltering frame rate assuring that this is one of the best looking games of 2011.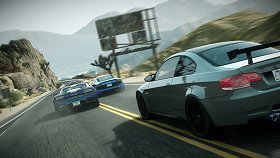 For the single player, the game also has a Challenge Series. This mode has you racing against the clock to win a bronze, silver or gold medal. Autolog also makes a return, meaning those with the game on your friends list may set some times that you may have the desire to beat. Autolog features throughout the entire game, once again being a great portal for some friendly competition, and adding in some longevity.
Online, there's playlists for you to flit between. By completing various solo challenges you'll unlock new playlists, and the driver level from the single player game carries over, so regardless of how you want to play the game, you'll be able to unlock stuff by earning XP and levelling up. The actual races ran mostly fine in my experience, although there's a lot of early chaos with those not completely used to the vehicle handling. Races can be played by up to eight players, and there's even rewards for podium finishes.
Need for Speed: The Run has a fair number of problems holding it back from true greatness, although it's also a thrilling and varied racer, and certainly EA Black Box's best Need for Speed game for quite some time. I would definitely like to see a sequel with the same idea, although with less flaws to its name.
7/10