Need for Speed: Most Wanted U Wii U Review
Publisher: EA  Developer: Criterion  Genre: Racing  Players: 1-6  Age Rating: 7+
Other console/handheld formats: PS3, Xbox 360, Vita
---
It's been over five years since the last Burnout game, and fans are clamouring out for a new one, although Criterion have yet to deliver it. Luckily, the developer has still been busy making racing games, with the thrilling and brilliant Need for Speed: Hot Pursuit reboot being their first attempt at a Need for Speed game. Taking yet another favourite Need for Speed game and turning it into their own, Need for Speed: Most Wanted went down really well, and now the game has come to the Wii U, courtesy of Criterion themselves.
This new Need for Speed: Most Wanted is without the story that was in the original game, although the only story that most of us will need is told out on the road, as we outrun the police and move up towards the top of the rankings, eventually becoming the city of Fairhaven's most wanted illegal street racer. Still, it would have been nice to be able to put a name and a face to the Most Wanted racers in the city.
To move up the Most Wanted rankings in order to challenge the next driver, you have to earn Speed Points. Speed Points are earned in a number of ways, which includes everything from placing in the top three in races, taking out rival racers or police cars, smashing through billboards, meeting milestones, to escaping from the police. When you manage to beat a Most Wanted driver, you can then win his car by forcing him off the road. The structure of the game could have been a little more varied and taken more inspiration from the original Most Wanted, but it works well enough the way it is.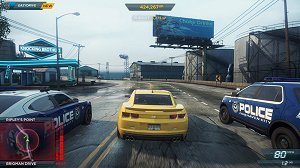 Fairhaven is an open-world environment, which gives you the option of driving to each event or quickly jumping to them through a handy menu. But unlike Burnout Paradise the races aren't as open, with a clearer and more linear route towards the finishing line, as you race throughout the relatively varied city, with its tunnels, highways, beaches and windy hill roads giving the city some character. Vehicles aren't only added to your roster by taking down the Most Wanted racers in Fairhaven, but most of them are parked up, waiting for you to come across in the city, with each new car having a total of five events to get involved in.
Race events include straight point-to-point as well as sprint races, others in which your only task is to escape from the pursuing police in as quick time as possible, and Speed Runs, which has you doing your best to maintain a specific average speed over the course of the event. As good as the events are, a few more certainly wouldn't have gone amiss.
When it comes to the vehicle handing, driving the vehicles in no way has the immediacy and pick-up-and-play friendliness of the Burnout games, although getting to grips with the handling is a truly satisfying thing. Key to the enjoyment of the driving are the thrilling speeds and the drifting technique, which is handy to apply when going around tight corners. There's an element of skill to pull these drifts off perfectly, but it's the type of game mechanic that will have many grinning from ear-to-ear. I know the following statement is such a cliché, but Most Wanted does very much handle like a dream, particularly when using the Pro Controller or the Wii's Classic Controller.
Yes, Most Wanted has a number of control options included in the Wii U version. Not only can you make use of the above mentioned Pro Controller or Wii's Classic Controller, but you can also play the game on the GamePad or by using a Wii remote (with or without the nunchuck). GamePad controls give you the option of using the buttons or motion sensing, although it's button control where the game feels at its most natural, with motion control through the GamePad proving to be all too too awkward. Still, like I mentioned, it's the Classic or Pro Controller that are the standout of all the control options.
Going back to the GamePad, not only can you play the game on it with off-screen play, but there are also a number of other options that are exclusive to the Wii U version. Being chased by the police? Well, just by tapping an area on the GamePad screen, the boys in blue can be disrupted, causing them to spin out of control. Want to swap your vehicle or mods quickly on the fly? It's possible through the GamePad. You can also change from day to night and vice versa, and switch the traffic on and off. Then there's the Dual Controls options, in which you can share the control of a vehicle with another local player; handy for helping an inexperienced player out or just for an extra bit of fun. If you crash with the Dual Controls turned on, the best thing is that you could always blame it on the other player.
You don't get all the weapons that were present in Hot Pursuit, nor are you able to take control of a police vehicle yourself, although there's still plenty of fun to be found trying your best to outrun the law. The police are an aggressive bunch, although their AI sometimes leaves a little to be desired, with their reckless driving resulting in them having a serious impact with walls or buildings in the strangest of places.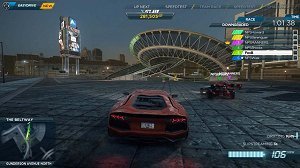 Most Wanted U also has online play for up to 6 players (Oddly down from the 8 players of other systems), and also takes its cue from Criterion's very own Burnout Paradise. There's racing, although there are also various challenges for you and other players to participate in as well. Autolog also makes its return in an enhanced form, which once again means you can challenge your friends for supremacy in a number of ways without them even being present. There's much fun to be had during chaotic races and challenges online, but the lack of police is very disappointing, particularly when they had such an important role in Hot Pursuit's online options.
Visually, Most Wanted U is the best looking version of the game on consoles. Because of the extra memory of the Wii U, Criterion were able to make use of some PC textures. Driving at night is now even more dazzling, with extra stunning lighting effects. The game rarely drops in speed, and it's certainly up there as one of the Wii U's finest looking games. Take note Wii U developers; this is the perfect example of a port done right.
Need for Speed: Most Wanted U is the definitive version of a very good but slightly flawed game, and the addition of a free DLC pack for no extra charge is very welcome, particularly as it proved to be quite a significant one when it was released for other systems. The visuals are a noticeable improvement, although many of the other Wii U extras can be easily ignored if you find that they aren't beneficial to you. If you own a Wii U and haven't played Need for Speed: Most Wanted on another system, then Most Wanted U is definitely the version to go for.
---
8/10
---