Just Dance 4 Wii Review
Publisher – Ubisoft – Developer – Ubisoft Paris – Genre – Rhythm Action – Players – 1-4 – Age Rating – 3+ – Other console/handheld formats – Xbox 360, PS3, Wii U

The Just Dance series has proven to be very popular indeed. Starting life on the Wii, the series soon found its way to other consoles when they received their own motion devices. It's a series which has proven just how much fun making a fool of yourself can be.
Being a safe sequel, Just Dance 4 doesn't really cram in loads of fresh ideas, with much of its appeal being new songs to dance to. That's not to saying that it is completely lacking in other fresh content, but it's certainly not a game to purchase if you are expecting reams of new play options.
The game has 43 songs (the full track listing can be seen at the bottom of the page) to dance to, with a wide range of tunes from different eras. There's everything from cheesy pop music to dance tracks for you to get your body moving to, and it's a varied enough track listing that should manage to appeal to many musical tastes. There's also Downloadable tracks you're able to buy, which will further expand the game.
Ubisoft continually do a good job in tuning the controls to make them work well enough on the Wii, although the Wii remote on its own is too imprecise for such a game for it to ever be perfect. Many of those who make up Just Dance's massive audience are just going to be happy that they can happily dance away in front of their TV's, regardless of how precise or imprecise the controls may be and how random the scoring system seems to be.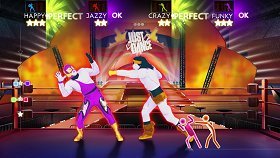 New this time are the Dance Battles. Pitting two players against each other in two dance routines from two different songs is the order of the day in this new mode. So how does it work? Basically the songs and routines change as you play as you have a dance-off against another player over six rounds, with a bar at the top of the screen revealing who is currently winning. It's a great addition and will give you the opportunity to see who really is best at waggling their Wii remotes in time with the music.
Just Dance 4 also introduces alternative dance choreographies for certain songs, of which are unlockable. The Just Sweat exercise mode has also been greatly expanded, adding in things such as new workout sessions, personalised programs and a calorie counter. After reading all of that, I'm sure you've already worked up a sweat.
The Mojo system returns, in which you earn experience that goes towards filling a bar up, eventually levelling it up. You are then awarded with a new unlock, which can be everything from dance mash-ups to additional routines for certain songs. Just Dance 4 also introduces Dance Quests, which are basically bonus tasks for each song, and when you manage to achieve one or more of these tasks, you are rewarded with extra Mojo at the end of the dance.
Just Dance 4 is a sequel that many will be dancing happily to, waving their arms but, regardless of the Wii versions lack of full body tracking, very likely also putting the rest of their bodies to good use. As usual, there's lots of ridiculous fun to be had and the new additions are worthwhile, but it's still the exact same Just Dance game that people have been buying in their droves, which, depending on who you are, will be a good or bad thing.
7/10
Just Dance 4 full track listing:
1. Bill Medley & Jennifer Warnes – "(I've Had) The Time of My Life"
2. Las Ketchup – "Asereje (The Ketchup Song)"
3. Justin Bieber feat. Nicki Minaj – "Beauty and a Beat"
4. Panjabi MC – "Beware Of The Boys (Mundian To Bach Ke)"
5. Carly Rae Jepsen – "Call Me Maybe"
6. Boys Town Gang – "Can't Take My Eyes Off You"
7. Emma – "Cercavo Amore"
8. Army of Lovers – "Crucified"
9. Stefanie Heinzmann – "Diggin in the dirt"
10. Rihanna – "Disturbia"
11. Dancing Bros – "Everybody Needs Somebody To Love"
12. Flo Rida – "Good Feeling"
13. Blu Cantrell – "Hit 'Em Up Style (Oops!)"
14. A.K.A – "Hot For Me"
15. The Blackout Allstars – "I Like It"
16. They Might Be Giants – "Istanbul"
17. Elvis Presley – "Jailhouse Rock"
18. Ricky Martin – "Livin' la Vida Loca"
19. Selena Gomez and the Scene – "Love You Like A Love Song"
20. Bunny Beatz – "Make The Party (Don't Stop)"
21. Nelly Furtado – "Maneater"
22. Sergio Mendes & The Black Eyed Peas – "Mas Que Nada"
23. Maroon 5 ft. Christina Aguilera – "Moves Like Jagger"
24. Alexandra Stan – "Mr. Saxobeat"
25. Rick Astley – "Never Gonna Give You Up"
26. Marina and The Diamonds – "Oh No!"
27. Jennifer Lopez feat. Pitbull – "On The Floor"
28. The Girly Team – "Oops!… I Dit It Again"
29. The B-52's – "Rock Lobster"
30. Skrillex – "Rock N' Roll (Will Take You To The Mountain)"
31. Kat DeLuna feat. Busta Rhymes – "Run The Show"
32. Anja – "Crazy Little Thing"
33. P!nk – "So What"
34. Sammy – "Some Catchin' Up To Do"
35. Nicki Minaj – "Super Bass"
36. Stevie Wonder – "Superstition"
37. Europe – "The Final Countdown"
38. Halloween Thrills – "Time Warp"
39. 2 Unlimited – "Tribal Dance"
40. Hit The Electro Beat – "We No Speak Americano"
41. One Direction – "What Makes You Beautiful"
42. Will Smith – "Wild Wild West"
43. Barry White – "You're The First, The Last, My Everything"