Hill Bill iOS Review
Developer: Balloon 27 LLC  Genre: Stunts   Players: 1  Age Rating: 9+ 
Requires: iOS 4.3 or later, universal app (iPhone 5 optimised)  Tested on: iPad 2  
Price: £1.49/$1.99  In App Purchases: Free DLC planned
---
Hill Bill longs to be a stuntman after watching his hero Evel Knievel. Now it's your chance to help him perform some spectacular leaps on his motorbike to win over a growing audience of fans.
There are six different venues, starting with Bill's muddy backyard and ending with the Grand Canyon. Each venue has ten different jumps to pass. The player earns stars (up to 3) for performing stunts on the ground and while airborne. Making a jump is started by moving the bike to an initial position after watching a preview of the obstacles scroll by. The gas pedal is held to speed up, and then stunts are performed by swiping directions on the screen. Landing the jump safely (on the down ramp) earns money and points.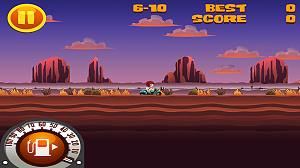 As new jumps and locations are unlocked, so too are new and more difficult stunts. Each location also has flying objects (birds, fireflies and balloons) that can be hit for bonus points. The money earned pays for new bikes and outfits to improve Bill's appearance.
This is really well presented, from the scrolling comic cutscenes to the hillbilly messages. You will be seeing the message You Done Crashed a few times. Great characters and backgrounds fit the theme, with some suitable sound effects and music rounding out the package. The controls are simple to learn and it will not take long to fine-tune your performance for the highest scores.
Best of all it is fun to play in short bursts, and it will draw you back to improve your scores. New levels and extras are being planned as free DLC for those who purchase the game, which is a good thing given the Tier 2 pricing. Head on over to the App Store and download yourself some bike ridin', death defyin' fun.
---
7/10
---