God of War Collection: Volume II PS3 Review
Publisher – Sony Computer Entertainment Europe – Developer – Ready at Dawn Studios – Genre – Action Adventure – Players – 1 – Age Rating – 18+ – Other console/handheld formats – PSP (games sold separately)

There's been a total of five God of War games now, spread across the PS2, PSP and the PS3. Bluepoint Games brought the first two PS2 games to the PS3, updating the visuals into HD and doing a real grand job. It seems as though that publisher Sony wasn't  going to stop until every single God of War game was available on the system, and that is now a reality.
God of War Collection: Volume II is comprised of God of War: Chains of Olympus and God of War: Ghost of Sparta: both originally released on the PSP. Developer Ready at Dawn Studios (who developed the PSP originals) has once again worked their magic – but this time on a console.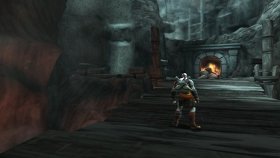 These handheld-to-console ports have been lovingly treated, and while Chains of Olympus does look very slightly fuzzy, the work that has gone into these ports is instantly obvious, and the games can also be played in 3D if you have one of those expensive TV's. Both games look even smoother and cleaner in HD, and Ready at Dawn had already seemingly waved a magic wand to make Ghost of Sparta happen on the PSP, and it shows here, as, despite originally being on the same system, there's somewhat of a generational leap between the two games in terms of visuals. I just can't be any more positive about the work that has been achieved here, treating both the series and the fans with true respect.
Both games are pretty much self contained in regards to their stories. Chains of Olympus is actually set before the events of the original game, whereas Ghost of Sparta is chronologically sandwiched between the first and second games. Without spoiling too much, the two stories do add some depth and humanity to the angry character of Kratos, whom seemingly gets out of the wrong side of bed every morning.
The two instalments play very much like other God of War games, which is certainly not a bad thing – the God of War series is one of the best when it comes to fluid and showy fighting. This fluid and showy fighting has certainly been retained for these two games, as has the QTE's and brutality, which certainly proves that Kratos isn't a very nice man. Swinging the Blades of Athena and stringing massive combos together is just as satisfying as any God of War game. Not forgetting to mention that, with the PS3's dual analog sticks, the controls now feel less awkward, allowing you to roll out of harm's way with a push of a stick.
There's also some pause for some puzzles and explorations, which certainly gives you the opportunity to soak in the sights of ancient Greece, and as these are God of War games, the scale and views are often quite marvellous. The puzzles meanwhile are nothing too complex, but just enough to break up all the maiming, while the exploration just may earn you objects to go towards enhancing Kratos, or you may stumble across some red souls to power up Kratos' weapons and abilities.
The two games have little to differentiate them from one another, but with Ghost of Sparta Ready at Dawn did add in a new tackle move and the addition of being able to strengthen the Blades of Athena by imbuing them with fire – helpful for splitting enemy armour and breaking through certain walls. Still, if I had to choose a favourite of the two, Ghost of Sparta is the better game in almost every way imaginable. It's an easy pick.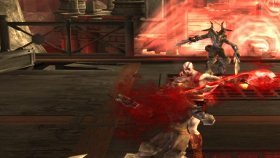 Each game will take you around 7 or 8 hours to complete, meaning that God of War Collection: Volume II's £29.99 RRP is very attractive, particularly for those that are completely new to the two games, but also worthwhile to those that would like to play them again in glistening HD. Not forgetting to mention that both games have extras such as challenges, adding even more value to the purchase.
If there's anything to complain about in God of War Collection: Volume II, it's that obvious sacrifices have been made – these two games did originally start out as portable games, meaning that, while they still very much feel like God of War games, they don't have all the features of, say, God of War 3. But Sony has never suggested that this package is anything otherwise, and it's certainly a good feeling to play these excellent ports with superior controls and on a bigger screen.
9/10