DanceStar Party PS3 Review
Publisher – Sony Computer Entertainment Europe – Developer – SCE London Studios – Genre – Rhythm Action– Players – 1-20 – Age Rating – 3+ – Other console/handheld formats – N/A

Dancing games that make use of Sony's Move controller can hardly do the job as well as Microsoft's Kinect, although these games are a lot to do with the participation over anything else, and a lot of the audience just won't care if the PlayStation Eye isn't tracking your entire body, and as long as it is accurate for what it is, then why should it matter?
DanceStar Party is the latest attempt from Sony's London Studios to bring to the world another casual dance game, having already tried their hand at dance last year with SingStar Dance. DanceStar Party, as my opening paragraph suggests, requires Move and an active arm, although using your whole body is more fun and is actively encouraged by the game, it's only really your Move-grasping arm that is being tracked.
DanceStar Party features 40 songs (the full track list can be viewed at the bottom of the page) on the disc to dance and to sing to (this is an option if you wish to try out your vocals), with a diverse range of tracks that will appeal to a vast amount of people. There's also downloadable songs available, meaning there's plenty already on the disc, but also more to purchase to bulk the song list up even more. It's just a shame that songs can only be purchased in bundles of four, which obviously ups the price.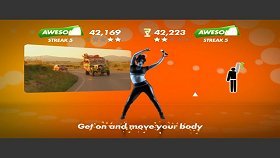 The game is easy to get a grasp of, with various difficulties determining the complexity of the routine, with beginner giving you a far easier time, while intermediate and professional will truly test your arm movement reactions. When the game begins proper, you'll see a real life dancer in the centre of your screen accompanied by a high quality official music video to the left hand side. The objective is to copy the movements of the dancer, scoring points and combo streaks by performing well. At the end, you'll be rated out of five, meaning there's potential to embarrass yourself in front of loads of people (up to 19 others, if you have that many friends, oh and a spacious house). Never mind, just remember that it's the taking part that really matters.
In the Dance Studio corner of the game, there's three modes to dance into. Dance Creator gives you free reign to create and record your own dance routines, which works well but sadly can't be uploaded for others to download and play online. Dance Studio also is the place to go for the Dance Class – here it's possible to practice songs, with the game breaking portions down for you, which is really helpful. Finally, the Workout mode is in there to help you to shed some weight or to keep it off.
The game does have its single player options, although it's the multiplayer that will appeal to the majority. Not only is there the potential for a mass Dance Party (up to 20 players, taking it in turns in pairs to battle against each other, and thus you'll need two motion controllers to take part in this mode) there's dance offs, two player battles, and also Dance Partners: a mode that is played cooperatively with another player. Such games are really meant to be played with others – laughing, making a fool of yourself and just having a lot of fun and silly sessions as you dance away in group games.
There's also options to upload videos and snapshots of your dancing, which certainly proves how silly you look if nothing else, and it's possible to rate these videos and images and share them on Facebook and Twitter. At least viewing videos and photos of others prove that you aren't the only idiot out there.
Taken for what it is then, a slickly presented game with accurate Move Controls, DanceStar Party does the job. The abscence of the option for a single player to make use of two motion controllers is rather strange and there's also a smattering of other flaws, but the core game works really well and will add life to many a party. And to finish on an even loftier high, the game can be picked up for a bargain price.
8/10
DanceStar Party Track List

Amerie 1 Thing
Barry White You're The First, The Last, My Everything
Basement Jaxx Where's Your Head At
Billy Idol with Generation X Dancing with Myself
Bodyrockers I Like The Way
Carl Douglas Kung Fu Fighting
CeCe Peniston Finally
Chromeo Night By Night
Deadmau5 Ghosts 'N' Stuff (feat. Rob Swire)
Diana Ross Upside Down
Duck Sauce Barbra Streisand
Ellie Goulding Starry Eyed
Elton John I'm Still Standing
Example Kickstarts
Groove Armada feat. Gram'ma Funk I See You Baby (Fatboy Slim mix)
Ida Corr Vs Fedde Le Grand Let Me Think About It
Iggy Pop Lust For Life
Jay Sean featuring Lil Wayne Down
Jessie J Do It Like A Dude
Kool And The Gang Get Down On It
Lady Gaga Born This Way
LMFAO Party Rock Anthem
Los Del Rio Macarena
Miami Sound Machine Dr Beat
New Kids On The Block You Got It (The Right Stuff)
Nicole Scherzinger Don't Hold Your Breath
Ok Go Here It Goes Again
OutKast The Way You Move
Republica Ready To Go
Rihanna Rude Boy
SNAP! The Power
Tavares Heaven Must Be Missing An Angel
The Chemical Brothers Hey Boy Hey Girl
Tiesto v Diplo feat Busta Rhymes C'mon (Catch 'Em By Surprise)
Tinie Tempah Pass Out
Usher featuring Pitbull DJ Got Us Fallin' In Love
Usher featuring will.i.am OMG
Vengaboys We Like To Party
Willow Whip My Hair
Yolanda Be Cool vs D Cup We No Speak Americano