Disney Pixar Cars 2 PSP Review
Publisher – Sony Computer Entertainment Europe – Developer – Virtual Toys – Genre – Racing – Players – 1-4 – Age Rating – 3+ – Other console/handheld formats – Xbox 360, PS3, Wii, DS

If a game isn't built specifically for a handheld system, then it can feel all too obvious, although if one is very different from what made it play so well on consoles, that can also spell disaster. Playing so different from the console versions, Disney Pixar Cars 2 on PSP was obviously built specifically for a handheld system.
Despite being based on a film licence, Cars 2 on PSP has no real story to speak of. The only story comes in the form of short text based paragraphs, which may irk those looking for a proper tie-in, with story and all. The message is, if you want the film story you should watch the film, because you're not going to get it here.
Cars 2's main mode is the C.H.R.O.M.E Missions mode. This mode has you starting out with basic training and then scaling up through five clearance levels, each of which contain five or six races. Obviously, the more progress you make the tougher it gets, but various other factors makes Cars 2 more frustrating than it could have been.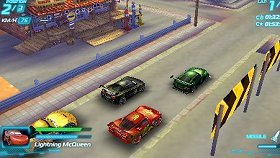 There are five race types: there's ordinary and weapon-free racing, racing with weaponry allowed, elimination racing, checkpoint racing, and finally the attack race isn't really racing but has you scoring a requisite amount of points by blowing up opponents. Attempts have been made to keep the game from getting stale too quickly, but it's just a shame that certain other things don't do the game any real favours.
The camera shocked me for instance. Whereas the majority of racing games put you behind or inside of the vehicle, Cars 2 has an always changing cinematic camera – twisting and zooming in and out on its own accord, and doing a decent job at showing you what you need to see. Cornering is even handled automatically, but in no way is the camera perfect. The game does do its best to forewarn you when an obstacle is ahead; allowing you to switch lanes to avoid it, although other times you'll crash because the game failed to warn you as to what was coming. It's needlessly frustrating, becoming somewhat of a test of memory, and makes the camera decision all the more baffling.
If you do crash, though, getting back into the race isn't exactly a problem as the AI kindly slows down to allow you to catch-up. Boost and various weapons also aid you in making a mark in each race, and there's no arguing that there's fun to be had with the simple handling mechanic.
Depending on the game mode that you took part in, finishing third or better or getting a specific amount of points will earn you spy points, which go towards unlocking new races and vehicles. Each vehicle has their own stats, with control, power and speed taken into account, and fans will obviously come across familiar characters from the films.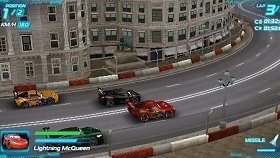 Races can be played singularly in the Free Play mode, and there's also a multiplayer mode for up to four players, which I sadly was unable to test. Another thing that adds to the lifespan is the badges, which basically are goals for you to meet – think achievements and trophies on Xbox 360 and PS3 respectively.
Visually, Cars 2 is decent enough. True, things are a little simple and there are better looking games on the system, although it's colourful, full of character, and will be instantly recognisable to fans of the films. Audio meanwhile does the job, although the dialogue for the characters is a little too limited.
Disney Pixar Cars 2 has too many flaws holding it back from greatness (the camera being the main negative), although there's still a decent game to be found if you give it time, getting used to both the camera and the on-rails cornering to the best of your abilities. But there's better racing games on the system with less problems, making this one for fans of the Pixar Cars films as opposed to anyone else.
6/10