Destiny: The Taken King Xbox One Review
Publisher: Activision  Developer: Bungie  Genre: FPS  Players: 1-12  Age Rating: 16+
Other console/handheld formats: PS4, PS3, Xbox 360
---
Destiny proved to be a divisive game upon its release last year. Bungie's shooter and RPG hybrid was criticized for its lack of content and flimsy storyline. The game has made some advances since then, but it's only now with the arrival of its first large scale expansion, The Taken King, that the game has been given what many felt it needed: a good old shakeup.
The Taken King consists of nine new story missions, three strike missions (four on PlayStation) and a new raid. Competitive multiplayer, meanwhile, is also supported with two fresh modes of play and seven new maps (eight if you're playing on PlayStation formats.) The bosses are for the most part more interesting and no longer take a ridiculous amount of damage before they're vanquished.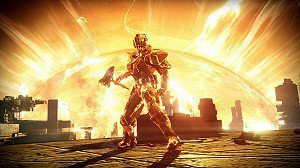 From an equipment standpoint, on the other hand, there are an abundance of new weapons, armour and such to discover. In terms of character progression, the level cap has been raised to 40 and the light system has been overhauled. Quests are now tracked in a new quest log, which is a welcome new feature.
The story, which sees you attempting to take down the Taken King, who is seeking revenge for the death of his son, is still not one of the games strengths by any means, but it is told in a more substantial and pleasing fashion than the base game. The dialogue is often more light-hearted and the previously sparsely used celebrity voices are now much more prevalent. The latter is not the case in regard to Peter Dinklage (who was widely derided for his arguably intentionally flat and unenthusiastic performance) however, who no longer provides the voice for your robot companion Ghost and has been replaced by the always reliable Nolan North, who delivers a far livelier performance. North also re-recorded Dinklage's lines from the primary game, granting some welcome consistency to the overall universe.
The story missions still have little in the way of set-pieces and the new level design isn't terribly interesting, but with the occasional twist, such as stealth or platforming sections, there is more variation this time around, making for a more engaging and surprising campaign.
Attaining the level cap of 40 is done through the traditional manner of shooting things and completing quests. Once again when you reach this point you can continue to enhance your character, though light levels have been removed and instead you'll keep on earning XP. Light however still plays a part, with a light stat that is determined by the overall quality of your equipped gear.
An infusion system has been implemented, which allows you to dismantle certain gear to further enhance rare and exotic equipment. Loot drops occur more frequently too which grants a further layer of compulsion. Furthermore, there's a new subclass for each of the three classes: Titan's can repeatedly throw hammers at their enemies, the Hunter can tether enemies together and the Warlock can shoot lightning from their fingertips.
The new Taken enemies, meanwhile, may look like darker variants of the existing ones, but have some new behaviour patterns, granting some welcome variety to the combat: Taken Psions for instance will create copies of themselves and Fallen Taken captains will teleport all over the place.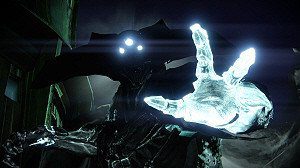 Once the credits begin to roll after a mere five hours, your mission is far from complete however, as you'll gain access to additional quests and Strikes. You'll also get to explore the Dreadnaut, an immense spaceship, which acts as the expansions Patrol area, though it's the most complex of such areas yet and has plenty of secrets to uncover.
There's also a new raid, Kings Fall (designed by some of the clever people that were involved in The Vault of Glass, the Raid from the main game which was also often considered as Destiny's greatest triumph and challenge), a six player mission which requires high quality equipment and demands efficient teamwork to conquer.
The competitive multiplayer meanwhile has a new Rift mode, which is like a chaotic combination of Capture the Flag and Basketball. Joining it is the new Mayhem, where the supers of Guardians will charge much faster than usual.  And, in case you are wondering, the mode is just as enjoyable and crazy as it sounds.
Destiny: The Taken King brings with it some clear improvements to Destiny's already robust framework, transforming it into the game that it always deserved to be and perhaps also the one that developer Bungie intended to make the first time around.
---
9/10
---