Broken Sword 5: The Serpent's Curse PS4 Review
Publisher: Revolution Software  Developer: Revolution Software 
Genre: Point & Click Adventure  Players: 1  Age Rating: 16+  
Other console/handheld formats: Xbox One, PS Vita
---
In this 5th outing for intrepid adventure-seekers George Stobbart and Nicole Collard, Broken Sword 5: The Serpent's Curse follows the pair as they track down a mysterious painting that is stolen during a museum art show that results in an unexpected murder to which they both bear witness. A simple cut and dry case this is not, as the two friends find themselves on a journey that will eventually take them to the hidden depths of sunny Spain.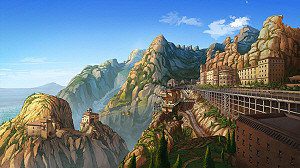 The game immediately hooks you in with its 3D characters set against its sharp, colourful and cartoonish 2D-rendered environments. Each background is drawn by hand, with lots of details in every nook and cranny and the art style has a very elegant charm, fitting for the featured locations of Spain, Paris, and even the UK's capital, London, makes an appearance. A lot of effort has clearly been put into the design of the game and is a visual treat, with much to pore over in both the foreground and background, and they truly show off the talent of the artists behind the games graphics.
The story itself is immersive, pulling you into its world with a murder that, from then on in, takes all kinds of twists and turns as the two protagonists delve deeper into the mystery behind the painting and its origins. Even though the ending of the game is rather disappointing, the story is able to remain a consistent and interesting mystery to solve, expanding on its storytelling, locations and keeping you engrossed in its depiction of the history surrounding the unique painting.
The characters are quite basic but still likeable enough, even if a bit stereotyped, and characters from previous games also make minor cameos, which is great fan service for those who have followed the series from the start. The dialogue is comedically dead-pan and can be cheesy at times, making for some humorous moments when interrogating someone – the game is great at creating a sense of unease when you question a character, leaving you wondering how they will react to certain things, especially when you show them unnecessary items such as nail clippers or a cockroach.
There is not much in the way of character development, though each character still has their own distinctive style and it is intriguing to find out how they are connected to one another as the plot thickens. Each character has their own quirks, such as Sergeant Moue, who has trouble holding in his wee, or Inspector Navet who thinks he is top dog and on the case, but is actually quite dim. The characters are very entertaining and the game is able to keep the story fresh by introducing new characters in its second half who are integral to solving the mystery behind the painting. You also don't need to have played the previous games in order to know who the characters are as the game quickly establishes their personalities whilst they solve the mystery.
As a traditional point-and-click game, it will appeal to those that prefer more conventional adventure games that see you playing in a third person perspective, viewing the scene from the outside rather than taking direct control of a character. The game encourages lots of exploration and it will have you clicking on and examining every inch of what is on screen. The puzzles in the game start off very easy to solve, enabling you to get used to the game mechanics and becoming steadily difficult as the story goes on, with no sudden difficulty spikes. The puzzles are varied – at one point there is an amusing puzzle in which you have to dress up George to look like someone else in order to progress – and will have you scratching your head wondering what to do next, though if you do so happen to struggle with a puzzle, the game offers a helpful hint mechanic, one that reveals the solution in pieces. Unfortunately, the hint mechanic is probably a bit too helpful though and ends up pretty much telling you how to solve a certain problem, rather than ending on a cryptic clue and allowing you to use your own logic to put two and two together. This discourages you from using your own mind to think things through and if you are feeling too lazy, you'll find yourself failing to resist the urge to click on the next hint to find out what you are supposed to do. However, if you are able to resist the urge to click on the hints, then you'll feel great satisfaction in knowing that you were able to solve these puzzles on your own.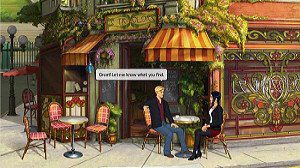 The game is at least 12-14 hours long, and as a port from the PC, this PS4 version runs very smoothly with no obvious glitches or bugs. There isn't much in the way of unlockables, though you do unlock character profiles over the course of the adventure. You can also collect the trophies for the game, but it is disappointing there is not more to go back for.
It also seems that there are no ramifications for your decisions and actions and because of this it distinguishes any sense of danger or tension; the game could have done with more consequences for your actions, making your choices all the more important, therefore building up tension that is necessary in making you want to see the two protagonists succeed in their mission.
As a whole, Broken Sword 5: The Serpents Curse is a steady and tame outing and, despite its 16+ age rating, is one that is suitable for young and older players alike, able to keep both enthralled and offering much fan service to those who have followed the series from the start. The game is able to keep fresh from start to finish and despite a poor ending, the lead up does a good job of keeping you on your toes and wondering what will happen next. A game that was funded through Kickstarter, it was worth the success.
---
7/10
---