POSTS TAGGED 'Xbox One'
News – Call of Duty goes back to its roots with Call of Duty: WW...
As previously rumored, the next Call of Duty game is set to take the series back to World War II. Those who thought that the previous game was too futuristic,... [Read full story]
Snake Pass PS4 Review
Snake Pass has all the bits and pieces that constitutes a typical platformer: a cartoon animal, an inviting, vibrant world filled with platforms and collectables.... [Read full story]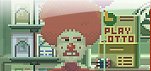 Thimbleweed Park Xbox One Review
From Ron Gilbert and Gary Winnick, two men that had involvement in such classic LucasArts games as Maniac Mansion, Zak McKracken and Monkey Island, comes... [Read full story]
NEWS – Sonic Mania Pushed Backwards
For those anticipating a slight nostalgic trip back to old-skool Sonic games, unfortunately it seems we are all going to have to wait just that bit longer... [Read full story]
Torment: Tides of Numenera PS4 Review
If you don't like reading, then the spiritual successor to Planetscape: Torment, Torment: Tides of Numenera most likely won't be for you. If you do... [Read full story]
Sniper Elite 4 PS4 Review
The third Sniper Elite game's headline feature was definitely the larger and more open levels when compared to previous games in the series. When it... [Read full story]
News – Xbox Game Pass announced
Xbox Game Pass is a subscription service similar to EA Access, which gives you unlimited access to a batch of games for a set monthly fee. The service... [Read full story]
News – Remember 2006's Rogue Trooper? It's getting r...
When Rebellion's Rogue Trooper game was released all the way back in 2006, I thought it was a decent third person action game that was overly simple in... [Read full story]
Rise & Shine Xbox One Review
Adult Swim Games have brought us Rise & Shine, a twin stick platformer that plays parody to the video game world. Meet Rise, a nervous young boy thrown... [Read full story]
News – 14 minutes of RPG The Surge shown off in new video
The Surge is a sci-fi themed action RPG that allows you to target specific body parts of enemies, cutting their limbs off, which can then be equipped or... [Read full story]
Next Page »