POSTS TAGGED 'Xbox 360'
Transformers: Devastation PS4 Review
Despite the toy-line having a popular 1980s cartoon as well as further cartoon series', Transformers: Devastation, with its beautiful cel-shaded visuals,... [Read full story]
Slender: The Arrival PS4 Review
Upon its initial release on the PC on June 26th 2012, Slender: The Eight Pages quickly became a phenomenal fan favourite, a game that was based on a popular... [Read full story]
News – No Man's Sky finally gets release date
Hello Games ambitious, open world space exploration game, No Man's Sky will launch June next year. The game allows you to explore procedurally generated... [Read full story]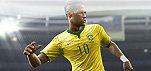 Pro Evolution Soccer 2016 PS4 Review
If anything is to be said about PES 2016, it's that it brings the fast and fluid fun back to football games, which means constant goalpost to goalpost... [Read full story]
News – Call of Duty: Black Ops 3's campaign missions can b...
You know how you normally unlock new missions in the campaign of a Call of Duty game? Well, this is a thing of the past in the upcoming Call of Duty: Black... [Read full story]
News – Season Pass and DLC announced for WWE 2K16
2K Sports have revealed their plans for the Season Pass and DLC for WWE 2K16. The Season Pass will cost £19.99, and it will save you 20% versus if you... [Read full story]
Destiny: The Taken King Xbox One Review
Destiny proved to be a divisive game upon its release last year. Bungie's shooter and RPG hybrid was criticized for its lack of content and flimsy storyline.Share Read More →
News – WWE 2K16 Roster complete, 120 characters will feature in ...
2K Sports have finally completed announcing the roster for the upcoming WWE 2K16, and there's going to be 120 wrestlers and divas in the game, which is... [Read full story]
News – Games with gold next month offers tomb raiding and a pixe...
First up on the 1st of September in Microsoft's Games with Gold program, is The Deer God on Xbox One, an adventure game with old fashioned aesthetics.... [Read full story]
News – Xbox One backwards compatibility is coming in November
The technical magic of Xbox One backwards compatibility will launch in November with more than 100 Xbox 360 titles compatible, Microsoft revealed at Gamescom.... [Read full story]
Next Page »