FIFA 13 Xbox 360 Review
Publisher – EA Sports – Developer – EA Canada – Genre – Sports – Players – 1-22 – Age Rating – 3+ – Other console/handheld formats – PS3, Vita, Wii U, Wii, PSP, PS2, 3DS

There comes a point in time for certain annual sequels in which the developers are unable to drastically improve them, as they reach the kind of quality that is difficult to improve upon. EA's FIFA series is one such game, although you can hardly complain when they have been striving all this time to reach perfection, and not forgetting to mention that people are still happy to buy them.
So, it's business as usual for EA's football series, although that's not to say that they haven't been busy tweaking things and adding in a few more significant gameplay changes. I did say in the opening paragraph that it's difficult to improve upon beyond the point that EA has now reached with the series, although I never once said that it was totally impossible.
The Player Impact Engine was one of the biggest inclusions in FIFA 12, and in FIFA 13 they haven't left it alone. Those who played last year's game will remember that the new physics engine could lead to some rather hilarious moments, but this year's game has seen some work done on the engine, meaning that such moments are less frequent. Saying all the latter, there's still some rather dodgy looking collisions, although they are always worth another laugh by bringing up the replays. Still, the Player Impact Engine more often pleases than not and once again adds some unpredictability to each and every match.
A new addition is the First Touch Control. This feature uses the player stats to determine how each individual player will receive the ball upon their first touch, and this is yet another thing that makes the game feel all the more unpredictable, with the ball feeling even more separated from the on-pitch players. First Touch Control is one of the most significant new additions, and is also one of the most worthwhile. The game certainly feels faster and more fluid than ever before because of this new feature.
Attacking player AI is now smarter, and they'll curve around defenders to avoid them, they'll also now better seek out space and, thanks to how the AI reacts when off the ball, it certainly leads to more attacking options. The difference is certainly obvious when compared to last year's game.
Free kicks have also seen some improvements. You'll now be able to have up to three players prepared for free kicks, and there are also new passing options. This is yet another feature that changes things up enough to make things happen that you may otherwise have completely unexpected.
The Complete Dribbling system, on the other hand, allows you to remain in a position that is facing the goal or defenders, which is a useful tactic to make use of. It's a testament to the success of a feature when playing a previous game in the series no longer feels quite right with the absence of the new feature.
There's also the Skill Games. The Skill Games are the replacement for the outfield player vs keeper encounters of old. It's certainly a welcome thing to be able to learn certain things about the game before going into a match. You are given a task and your objective is to complete this task within an allotted time. There are bronze, silver and gold challenges, obviously differing in their skill levels, and you'll learn things such as how to pass the ball and shoot accurately, which is certainly a nice and fun way to learn how to be a better FIFA player.
So, all the above features are certainly most welcome and definitely make it feel like a worthwhile update in terms of the on-pitch action, but how about the many modes and features that the game has crammed onto its disc? Modes like Head to Head Seasons, Virtual Pro, and career and Ultimate Team return, although allow me to concentrate on some of the highlights of the package.
The career mode now allows you to eventually progress to managing international teams. There are also more possible scenarios in terms of what can happen to your players off the pitch, adding in even more unpredictability. The transfer system has also seen an overhaul, giving you new options in offering deals to sign new players. Career mode also feels very atmospheric, with Geoff Shreeves commenting on injuries during matches and Alan McInally keeping you up to date on the score line in other matches that are being played on the same day as your own, while final scores are also read out during the menus after you've finished your match. As for the popular Ultimate Team mode, it has also seen a few tweaks. It's still all about the trading and swapping of cards to build your fantasy team, although there are new seasons, while things are now better explained for those new to the mode.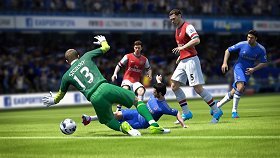 Then there's the new Match Day, which is there to reflect the real happenings and the form of teams and players in the real life sport. Player form will rise or dip depending on how the individual is playing in reality, and real life injuries and suspensions are taken into account, while commentary also keeps tabs on it all. Match Day is certainly a feature that will go down well with the football fan, although less so if their favourite team has been recently struggling to find form perhaps.
FIFA 13 also introduces Kinect voice options, allowing you to call for the ball when you are playing as your Virtual Pro, switch tactics during matches, and you are also able to make substitutions, although this can feel a bit fiddlier than it should. A rather humorous touch is that if you swear during matches, the commentators will comment on your vulgar words. All in all, Kinect voice control is there for those who want it, and it works to a satisfying degree.
In conclusion, this is another wonderful entry in what has turned into an amazing series, and EA continue to do what seems to be impossible with the series: improve upon the last one. The keyword this year seems to be unpredictability, and the game certainly has even more parallels with the real world sport because of this. The action is just as fluid and fun as it was previously, although there's an increased amount of unexpected moments and an even smoother and realistic feel. With all that said, FIFA 13 is yet another major triumph for EA Canada.
9/10