DiRT: Showdown Xbox 360 Review
Publisher – Codemasters – Developer – Codemasters – Genre – Racing – Players – 1-8 – Age Rating – 7+ – Other console/handheld formats – PS3
Codemasters have been masters of many things with racing games over the years, and one of those things is definitely their expertise in making vehicles disintegrate with each collision. It wasn't until Race Driver: GRID in which they did the logical thing and threw a banger racing event in there, although, until now, and very surprisingly, they had never made a full and complete banger racing game.
DiRT: Showdown has little in relation to the other DiRT games, with it instead focussing on vehicle violence, and you are able to crash into your opponents without it being frowned upon. It's certainly a game that evokes fond memories of Sony's long dormant Destruction Derby series, and it's definitely a game that has been made with a broad audience in mind.
DiRT's vehicle handling was a mixture of arcade and simulation, although Showdown feels a lot more arcade centric, which certainly makes a lot of sense considering the theme of the game. For those that like causing pileups and not having to get to grips with the handling beforehand, well,with its highly responsive and intuitive handling, DiRT: Showdown welcomes you with open arms. Other than your crash-happy opponents, there's certainly nothing to fear here.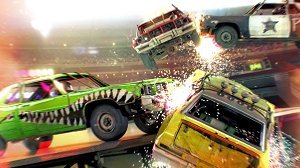 The Showdown Tour is the mode in which many people will spend a large amount of their time playing. You'll race, cause crashes as well as buy and upgrade vehicles. The Tour is tiered, with each obviously being more difficult than the last, and you'll be taking part in various events across the mode, all of which are also available in multiplayer.
Modes include straight up racing, of which takes place on ordinary circuits. Domination has you aiming to be the fastest through each sector on the track, and Elimination has the vehicle in last position being eliminated every time the clock reaches zero. Obviously, given the nature of the game, you are able to cause lots of accidents without feeling dirty.
The demolition events include Rampage, Knock Out, Hard Target, and 8-Ball. Rampage takes place in a closed arena, in which causing damage to other vehicles will earn you points, and, even if you find yourself running out of health, you'll keep on respawning until the clock hits zero. Knock Out is very similar to Rampage, although you can earn extra points by pushing your opponent off the edge of a platform. Hard Target once again has you inside of a closed off arena, although the aim here is to survive as long as possible as a glut of vehicles do their best to destroy you. Finally, 8-Ball is racing on cross-over tracks, with the potential for some major collisions and many vehicular casualties.
The final set of events are the Hoonigan events, of which is comprised of Trick Rush, Head 2 Head, and Smash Hunter. If you've player DiRT 3, then the Trick Rush will be instantly familiar to you, with it basically being the Gymkhana events under a new title. You'll be throwing your vehicle around and performing various crowd pleasing tricks to amass points. Head 2 Head has you going up against another driver, in which you'll have to drive through a course, completing the instructed tricks and getting to the finishing line before your opponent. Finally, Smash Hunter has you driving through coloured foam bricks in the instructed order, although I did find some of these events a little confusing, with little to no obvious signposting.
Other than the career, there's also the Joyride mode. The Joyride mode gives you an open hub to drive around, each of which gives you 75 challenges to overcome. There are two hubs – the Battersea Powerstation and the Yokohama Docks – with challenges such as performing donuts around obstacles, jumping over objects and so on. It's a nice little extra, and puts your driving and showmanship skills to the ultimate limit.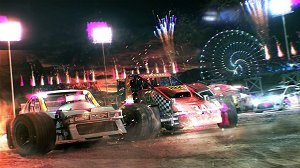 The multiplayer side of things is online as well as through split screen.  Like I mentioned earlier, all the events remain available to you. Online, the game can be played by up to eight players at once, and with a field full of players, there's certainly the potential for lots of destruction. Split screen can meanwhile be played by two players, and you can add in AI vehicles, which certainly makes it feel a whole lot less limited. Both online and split screen run well and nicely rounds out this destructive package.
Where DiRT: Showdown falters is the lack of impact in the crashes. Don't get me wrong, there's some truly brutal and spectacular meeting of metal (the Crashback camera allows you to instantly relive these moments in glorious slow motion), but the crashes just lack the impact of, say, Race Driver: GRID. Showdown also only features two views, and the game is lacking in proper interior views.
Visually, it's with little surprise that DiRT: Showdown looks amazing. Codemasters' EGO Engine continues to impress, and the cosmetic vehicle damage is incomparable, with no other racing games featuring damage as detailed as this, well other than Codemasters own racing games, that is. Sun, snow, fireworks (giving the game somewhat of a festival atmosphere), and vehicles are all astonishingly detailed.
DiRT: Showdown may not be perfect, but what it is is a responsive and action packed racer, and one can only hope that this is the breakaway game that will split the DiRT series in two, with one series being more serious and the other being more about violent crashes and showy driving. Whatever the future may hold, DiRT: Showdown is wonderful, brutal fun.
8/10